Wabash Wins Great Lakes Regional XC Title
by Brent Harris • November 16, 2013

Share:
Wabash placed five runners in the top-20 spots Saturday to rip the NCAA Cross Country Great Lakes Regional title away from Calvin College and earn a place at the national championship meet for fourth consecutive year.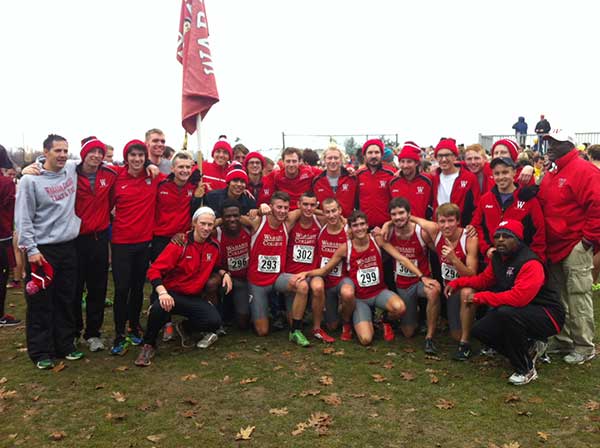 The Little Giants ended a 17-year reign by the Knights dating back to 1996 when Wabash last won the regional title. Equally impressive, the victory came in a race that took place on Calvin's home course in Grand Rapids, Michigan.

Dalton Boyer topped the Wabash group, finishing second in the field of 252 runners. He crossed the finish line 25:14.7, his quickest time of the year. Boyer finished four seconds back of regional champion Paul Lewis from Albion with a winning time of 25:10.0.

The Wabash depth and pack approach led to the win. Two more Little Giants finished before the first Calvin runner could complete the 8000-meter loop. Jared Burris posted his best time of the year by 16 seconds, taking 11th place with a time of 25:33.1 Billy McManus finished right behind in 12th place at 25:36.6, also a season-best effort.

Adam Togami was the next Wabash runner to break the tape, finishing 15th with a time of 25:37.2, 25 seconds quicker than his previous best time this season. Nick Boyce completed the scoring for the team with a 20th-place finish at 25:42.5, giving the Little Giants a gap time from first to fifth place of 28 seconds. Boyce also set a season-best mark, bettering his previous best this year by nine seconds.
Fabian House was close behind in 24th place at 25:56.3, also a top mark in his first year as a member of the cross country team. Freshman Mason McKinney grabbed 49th place with a time of 26:19, another best performance of the year.

Wabash scored a total of 60 points, 19 better than second-place Calvin with 79. Manchester University took third place (109) followed by Mount Union (137) and Wooster (210).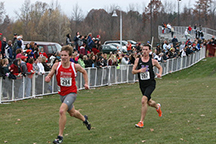 The Little Giants return to nationals for fourth straight season. Wabash finished 13th at the 2010 national championship and 16th in 2011. Last year the Little Giants finished 28th. Wabash qualified for six consecutive national championship meet appearances from 1991 to 1996. During that time the Red Pack posted third-place finish in 1995 and a fourth-place finish in 1994.

Wabash will compete at the 2013 NCAA National Championship meet on November 23 at the L.S. Ayres Athletic Complex on the campus of Hanover College.
2013 NCAA Great Lakes Regional Men's Cross Country Results

2013 NCAA Great Lakes Regional Men's Race - Photo Gallery