Advocate for Global Justice Speaks Monday
• November 15, 2013

Share: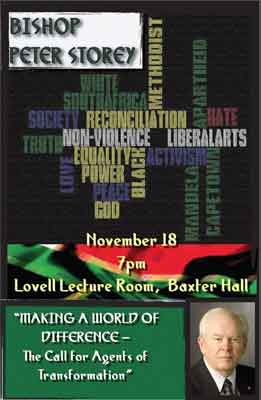 A man who helped change South Africa during his 40-years of sustained opposition to the infamous apartheid government of that country will speak on the Wabash campus Monday night.
Dr. Peter Storey, a native South African who served as president of the Methodist Church of South Africa and whose ministry was defined by opposition to the apartheid government's oppressive racist policies, will present "Making a World of Difference: Today's Call for Agents of Transformation" in Baxter Hall 101 at 7 p.m.
"Dr. Storey is the sort of person for whom writing a short description is particularly difficult," says Associate Professor of Religion Derek Nelson '99, Director of the Wabash Pastoral Leadership Program, which is co-sponsoring Storey's visit along with the Wabash Religion Department. "He is a fascinating figure in the history of racial reconciliation and the pursuit of global justice, and we are honored to bring this international treasure to our little corner of the world."
Storey, a South African Methodist minister, is the former president of the South African Council of Churches and is Ruth W. and A. Morris Williams Distinguished Professor Emeritus of the Practice of Christian Ministry at Duke University Divinity School.

Storey's formal opposition to the South African government's policies began in Cape Town during the forced removals of people of color and and continued as he was chaplain to Nelson Mandela and other political prisoners on Robben Island. Later, as a Methodist and ecumenical leader he played a significant national role in the Church's anti-apartheid struggle. He and then-Bishop Desmond Tutu were witnesses-in-chief for the SACC when the apartheid regime put the organization on trial.

Returning to South Africa in 2006, Storey headed up the design, funding and building of the Seth Mokitimi Methodist Seminary in the city of Pietermaritzburg, which was opened in September 2010. He chaired its Governing Council and most recently served as interim president of the Seminary.

His talk is free and open to the public.