Little Giants' Mission: Keep the Bell
by Jocelyn Hopkinson '15 • November 14, 2013

Share: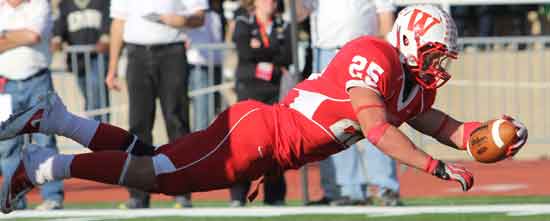 The Wabash football team has not won five consecutive Monon Bell games in almost 50 years. The Little Giants (8-1, NCAC 7-1) will try to do that Saturday in the 120th Monon Bell Classic at DePauw (4-5, 4-4 NCAC).
The Bell remained in Crawfordsville from 1949-1954. Could it happen again 2009-2014?
Senior offensive lineman Mark Riffle acknowledged that the Tigers will be thirsty for the Bell after a four-year drought.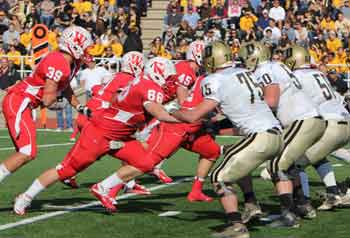 "I could only imagine what it would be like to hear the Bell ringing on the other sideline the whole game and not have it," Riffle said. "Me personally, that'd fill me with rage. So we have to be ready for that this week with guys playing above and beyond their usual levels."
The Little Giants will enter the game licking their wounds after a 35-17 home loss to Wittenberg. Even though the defeat removed Wabash from an automatic-playoff berth, it still has a chance to earn an at-large bid, but junior linebacker Cody Buresh said the team is trying not to think about that. Instead, it is focused on a familiar theme.
"Redemption has been a really big theme this year for all of us," Buresh said. "I think redemption is even bigger than those two games (Allegheny and Oberlin) from last year, just to show that we have a lot more to offer."
The junior can play a big role in Saturday's contest pressuring the Tiger quarterback. Buresh is third in the conference with 10 sacks.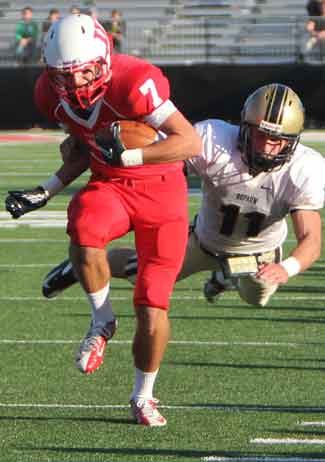 The Little Giants will try to redeem themselves against a streaking Tigers team that has won four of its last five. DePauw's knocked off Ohio Wesleyan on the road and its only loss in that span was by three points to Wooster.
"They've definitely played much better than they did early in the season," Coach Erik Raeburn said. "With the coaching change that can be expected. The coach has got to get used to the players, and the players have to learn a whole new system. But clearly, their coaching staff and players are on the same page now."
DePauw's new coach Bill Lynch returned to the sidelines after a nine-year absence. He coached the Tigers in 2004 before leaving for Indiana University, where he coached the Hoosier before taking an administrative position at Butler.
Lynch turned his offense over to freshman quarterback Matt Hunt early in the season. He has thrown 14 touchdowns to just 3 interceptions and averaged over 200-yards-passing.
However, Hunt will likely feel the big-game pressure Saturday and the Wabash defense plans to add to it.
"I don't care what quarterback you're talking about, the more pressure you can put on the quarterback, the better your chances of winning are," Raeburn said. "If they have all day to throw, most of the guys are going to make the throws to beat you. We feel like no matter who we play, if we don't have pressure on the quarterback, he's going to have a good day throwing the football."
A pass rush will be even more critical Saturday. Cornerback Houston Hodges '15 and safety Justin Woods '16 are suspended for the first half due to NCAA in-game violations last weekend.
The Wabash secondary will also try and deal with 6-foot, 5-inch receiver Barry Flynn. Flynn has caught 9 of Hunt's 14 touchdown passes.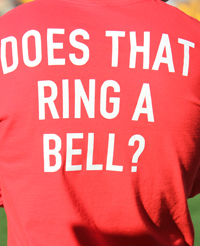 Offensively, the Little Giants will try and reestablish their ground game after they struggled with only 57 yards. Wabash still tops the conference with almost 240 rushing yards-per-game.
"We feel like if we don't run the ball well, we'll struggle offensively — we saw that Saturday," Raeburn said. "They've been solid against the run all year and that's been our biggest strength all year. If we don't find a way to run it better than we have these last couple of weeks, it will be a tough day for us."
DePauw has allowed 150.3 yards rushing per game.
"It's always difficult to switch up the offensive line," Riffle said about injuries up front. "It takes some time to key on each other's tendencies so hopefully we'll have the same group of guys going into this week."
The Little Giants will try and rebound after the tough Wittenberg loss. They're ready to remove the sour taste.
"I'm just grateful that we have another game to look forward to," Raeburn said. "It would have been awful if that was our last game."
Kickoff will be at 1:07 p.m. in Blackstock Stadium. AXS TV will provide the coverage.