House '16 Honored for 'Realizing a Dream'
• November 7, 2013

Share:
Fabian House '16 has realized a dream as a Wabash College sophomore thriving and experiencing success as a first generation college student.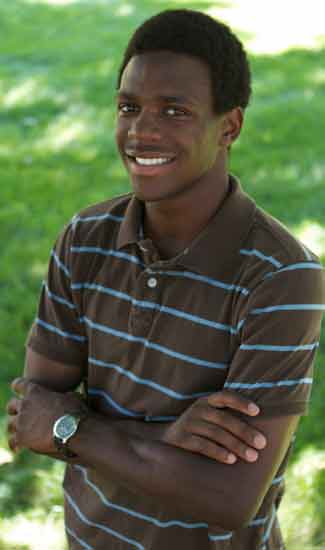 House will be one of 31 Indiana students honored Saturday night in Indianapolis at the Independent Colleges of Indiana (ICI) "Realizing the Dream" banquet.
Made possible by a grant from Lilly Endowment Inc. to ICI, the event recognizes first-generation students attending ICI campuses, along with their inspirational teachers and families. The event is being held at the Sheraton Indianapolis at Keystone Crossing, with a reception at 6:15 p.m. and an awards dinner at 7:00 p.m.
Each honored student will receive a $2,000 check to help with college costs, and each student's chosen "most influential" teacher/mentor will receive $1,000. One out of every three students on ICI campuses is a first-generation one. Generous financial aid provided by the campuses themselves, combined with state and federal grants, makes a private college education a possibility for all students in Indiana.
"I was pleasantly surprised," House said of learning about the honor from Dean of Students Mike Raters. "I knew nothing about the scholarship or that I would be considered for it.
"I think it's a reward for the hard work I put in my freshman year. My goal is to continue to work hard and make sure the award is deserved. Realizing the dream represents the work of my parents, my family, and a lot of my friends encouraging me to work hard and be the best I can be."
House selected his 5th grade teacher at Heritage Hall Christian School, Greg Posey as his most influential teacher/mentor.
Cross Country Coach Roger Busch will accompany Fabian to the banquet. "I see him every day and he pushes me every day. He pushes me physically and mentally."
Busch called Fabian a "suspiciously nice young man" a term often used by former track coach Rob Johnson.
"I recruited Fabian very aggressively as a high school senior and he was always replying with "sirs" and "thank yous" which is very uncommon for that age group," Busch '96 said. "I was a bit disappointed when Fabian decided to play soccer his freshman year after spending so much time encouraging him to attend Wabash. At the time, he still had a strong passion for soccer so I encouraged him to do what he loves. I admire him for making those tough decisions and being honest along the way. He did decide to run indoor and outdoor track and he embraced the stress of the sport like he had never missed a beat.
"He had an excellent season both indoor and outdoor and rekindled his passion for running. He connected with the other distance runners on the team and about half way through the outdoor season asked me if he could run cross country. I explained to him the demands of a year-round runner and he simply said "ok". He guaranteed that he would work as hard or harder than the others on the team. And he has done so. He is still adjusting to the college cross country distance, but he doesn't shy away from the challenge."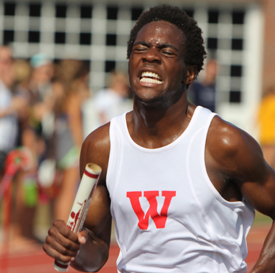 Busch described House as an extremely ambitious Wabash man. "Fabian approached me this fall with a question about completing Wabash in six semesters. I was very candid with him about the pros and the cons and once again his willingness to accept challenges provided him the confidence to graduate from Wabash in 3 years! He is surprisingly not much of a vocal leader on the team, but he definitely leads by example."
House has been active in athletics, career services, and academically as a second-year college student. He was Governor of Hoosier Boys State and could have gone to college anywhere.
"Wabash has worked for me in that I've been truly challenged in how I interact with people," he said. And on an academic level, I've been stretched to think in ways I wouldn't have imagined before. The faculty is very committed to stretching you on an academic level and making you a better person."
This keynote speaker for Saturday's is Rebecca Hernandez, Ph.D., Goshen College associate dean of Intercultural Development & Educational Partnerships. A first-generation college student herself and the daughter of migrant farm workers, Hernandez has been working on Latino issues throughout her career. She has taught middle and high school, served as a community and non-profit leader, and held faculty appointments at Oregon State University and Oregon Health and Sciences University.
"We are so grateful to Lilly Endowment Inc. for making this inspirational program possible," says Richard L. Ludwick, ICI president & CEO. "We are proud, too, that because of the higher graduation rates of our ICI colleges and universities, these students are twice as likely to realize the dream of completing their degrees in four years."