MXIBS Talk Explores Art & Inclusion
• October 31, 2013

Share: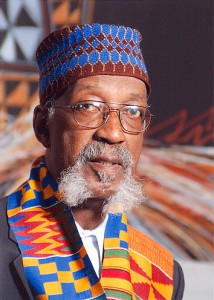 Award-winning artist, educator, and cultural leader Willis "Bing" Davis will discuss "The Liberal Arts, Art, and Inclusion" as he delivers the John Evans Lecture in Black Studies on Thursday, November 7 at 7 p.m. in the Lovell Lecture Hall at Wabash College.
Davis, a graduate of DePauw University, is visiting Wabash following a month-long exhibit at his alma mater titled "On the Shoulders of Ancestors," which celebrated his 46 years of teaching, exhibitions, art-making, and community engagement.

The John Evans Lecture, sponsored by Wabash College's Malcolm X Institute of Black Studies, is given in honor of John Evans, the College's first African American graduate. Wabash Trustee Emeritus Robert Wedgeworth '59 delivered the inaugural John Evans Lecture in 2008 and first met this year's speaker in the late 1950s during games between Wabash and its archrival DePauw.

"Bing and I competed for four years against each other on the basketball court," Wedgeworth recalls. Both men are enshrined in their schools' Athletics Halls of Fame. "We have not seen each other since our last game in the spring of 1959, but his career since then is an excellent model for art majors in terms of teaching, creating, and inspiring local art programs and projects.

"[Wabash Coach Bob Brock used to say that college basketball is great fun, but what players do with their lives is much more important," Wedgeworth recalls. "He would have been proud of Bing's accomplishments."

Born in Greer, SC, and raised in Dayton, OH, Davis taught high school art before attending the Dayton Art Institute, then earned his master's in education from Miami University in Ohio. Returning to DePauw in 1970, Davis served as assistant dean of art and coordinator of Black Studies as the only black faculty member. In 1973, Davis attended his first meeting of the National Conference of Artists (NCA) and made his first trip to Ghana.

He was appointed assistant dean of the graduate school and associate professor of art at Miami University and that same year held his first one-man show at the Studio Museum of Harlem. In 1979, he became chair of the art department and director of the new Paul Robeson Cultural and Performing Arts Center at Central State University in Wilberforce, OH. Davis served on Central State University's faculty for 20 years and was a visiting scholar at the University of Dayton and an Artist in Residence at Wright State University.

Davis has an illustrious record as an artist and curator, including exhibitions across the United States and in Africa and Europe.

Davis also founded Shango, a non-profit organization designed to provide art and cultural experiences to enhance the understanding and appreciation of African-American art and culture, reinforce the inter-relationship of the visual arts to other artistic and cultural expressions while enhancing the position of African-American ?artists in the community and the world at large.

Davis's lecture is free and open to the public, and a reception for the artist will begin in the Malcolm X Institute for Black Studies soon after Davis's talk.