Bird '00 Helped Redefine Presidential Runs
by David Myles '14, The Bachelor • October 25, 2013

Share:
DAVID MYLES '14 | CAVELIFE EDITOR • Politics is a dirty game. It can turn optimism into cynicism, and cynicism into apathy. This truth, how­ever, does not apply to Jeremy Bird '00. With his wide smile and energetic oratory, Bird is a reassuring example of the fact that integrity is not yet dead in American politics.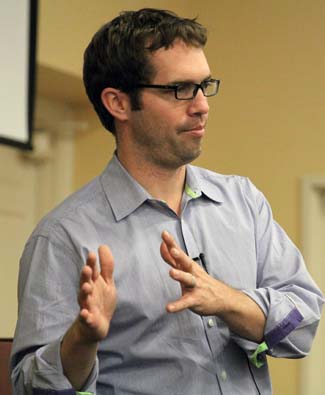 Bird was the National Field Director for President Obama's re-election campaign, and is continuing his love for political organizing as a co-founder of 270 Strategies. A private company, 270 Strategies allows Bird and his col­leagues to use the lessons they learned over six years as Organizing for America employees to aide political campaigns, not-for-profit advocacy groups, and multinational corporations.
Bird gave talks sponsored by the College Democrats, Wabash Callings, and the Wabash Lecture and Film committee. "There are only a few with his insights, but even fewer willing to participate in nearly two dozen meet­ings, class visits and talks," Wabash's Reference Librarian Jeff Beck said. "Anyone encountering Jeremy's infec­tious smile will find an immediate anti­dote to cynicism and a reminder that humility (seeing things as they really are) is an incredible source of personal strength."
Bird's resume is impressive and his demeanor is congenial and polished. Yet, this Wally's path to the upper ech­elon of American politics is not what most people would expect.
From Wabash to Harvard to Kerry '04
Bird was raised in a small town about forty miles outside of St. Louis. His family was not well off, but his parents
knew that education was key to their son having a better life. Recruited to run cross-country and because of his academic prowess, Bird chose to attend Wabash College. He was the sports editor for The Bachelor and started the Lacrosse team, but, believe it or not, Bird did not take a single political science course dur­ing his time at Wabash. His political apa­thy would dissolve, however, during his semester abroad in Israel.
As a Religion major, Israel was the no-brainer choice for Bird. He was raised Southern Baptist and obviously had an intellectual curiosity into world religions. Thus, what better place is there than Israel to immerse yourself in religious fervor?
"My time in Israel was very disrup­tive in a good way," Bird said. "There are those moments that really define who you are. When I came back I felt that I grew up more…I felt my mind was opened up in ways it was ready to be." Bird realized that he knew nothing about American politics. "The first political rally I went to was at the University of Haifa for Ehud Barak, who was running against Benjamin Netanyahu for Prime Minister" Bird said. "I couldn't understand what he was saying, but I noticed how many young people were there."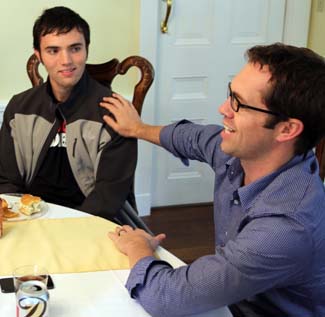 Seeing how involved the youth of Israel were in their political process inspired Bird, even though he may not have yet realized to what degree. Still not sure what he specifically wanted to do when "he grew up," he chose the graduate school path, applying only to Harvard Divinity School.
What sold Bird on Harvard Divinity was that he could take classes at the Kennedy School for Government. One of his first classes focused on the practice of community organizing. As a project for that class, Bird advised youth from the inner city of Boston on a successful cam­paign to have $13 million added into the city's budget to accommodate for new textbooks and renovated school facilities. Bird then realized what he wanted to do with his life: organize others in pursuit of a common good.
After Harvard, Bird realized that he was tired of former President George W. Bush's policies and rhetoric, and, through a divinity school professor, landed a job as the New Hampshire Deputy Field Director for Howard Dean's presidential campaign. After the yelp heard around the nation, the Dean campaign faltered. Yet, Bird had already developed a strong network of contacts.
"Your boss is your field director…and if they're good they will go run something else and want to take good people who they've met," Bird said. "The state direc­tor who I became very good friends with, she became the National Field Director for the DNC, which meant for Kerry, and she brought me with her…and I do that for people who work for me."
While John Kerry would ultimately lose to President Bush, the training Bird received would pave the way for the next chapter of his life.
Organizing for America
In the build up to the 2008 presidential election, Jeremy Bird received a lot of offers to work for Hillary Clinton's cam­paign. But he was more interested in a junior Senator from Illinois.
"I read his [President Obama's] auto­biography, and I could tell he had sat around the kitchen tables," said Bird. "That he had done the same type of com­munity organizing in Chicago that I did in Boston."
Bird called around D.C., looking for any and all contacts that could put him in touch with the Obama campaign. After much persistence, he was interviewed, and earned the position of Field Director for South Carolina, a pivotal primary state. It was here that Bird engineered the Barbershop and Beauty Salon strategy. "We were told that in South Carolina, you go to church for the good, prison for the bad, and the barbershops for the real," Bird said. "So that's what we did." Obama won the South Carolina Democratic Primary by almost 30 percent, and Bird's strategy was implemented across the country.
After the 2008 election, Bird played a pivotal role as Deputy Director of Organizing for America, especially in creation of the Affordable Care Act. When President Obama's re-election cam­paign was initiated, Bird was named the National Field Director, a position that put him in charge of grassroots efforts.
One of Bird's fondest memories of the campaign actually occurred the day after the 2012 election. "Right after 2012 he came to the office and gave a speech to the staff," Bird said. "The president is not a publicly emotional guy, and he cried. It felt like a culmination and then we went around the office, and there were 500 people, and he hugged everyone. They shared stories, they were joking. He hugged me and said I'm proud of you."
270 Strategies and A Global Movement
In the wake of the 2012 election, Jeremy Bird could have worked in the White House, a dream job for most politi­cal junkies. Bird's passions, however, were elsewhere.
"I am really drawn to the campaigning aspect and the organizing side of politi­cal work, and how you engage people in a major way. I love campaigning…there's a lot of adrenaline in it," Bird said. "You have to build a start-up and we had to build a $1 billion start up in 18-20 months. Starting the company is it's own start up…and I didn't want to move back to DC."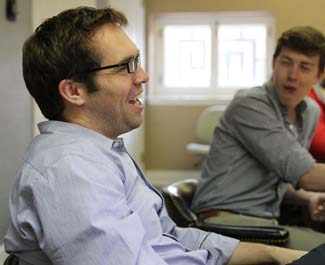 In January 2013, Bird, Mitch Stewart, the Battleground States Director for Obama 2012, and five other partners launched 270 Strategies, 270 being the number of electoral votes necessary to win the presidency. Bird and his col­leagues are now applying their grassroots experience and knowledge of data analyt­ics to advise corporations, not-for-profits, and political campaigns at all levels.
"The biggest piece of what we do is not-for-profit issue advocacy," Bird said. "We work with a lot of people in the edu­cation reform space, people working on how we get through the politics of educa­tion and how we provide the best edu­cational opportunity for kids throughout the country."
With clients such as Senator-elect Corey Booker and the Chicago Cubs, 270 Strategies will be a multi-million dol­lar business this year, and it is only ten months old. Perhaps the most interesting and promising aspect of 270 Strategies though is their international work, where they are advising Prime Minister cam­paigns in several countries.
The Wabash Impact
Jeremy Bird is the quintessential Wabash man. While Harvard can be credited with directly introducing him to community organizing, Wabash College and a Liberal Arts education is respon­sible for his adaptability.
"I think that the College Democrats and Wabash as a whole were thoroughly impressed and inspired by the level of success a fellow Wally has achieved and especially by Jeremy's unique Wabash story," said Dylan Miller '16, the President of the Wabash College Democrats. "It just goes to show the potential a Wabash liberal arts education can have."
In his own words, Jeremy Bird acknowledges the impact of his Wabash education. "It cultivates a critical mind. And if you're able to think critically about any problem that is in front of you, and not focus on the black and white," Bird said. "You are going to be much
More News
---
---
Photo Galleries

Jeremy Bird '00 Returns to Campus 10/22-23