Brogan '88 'Makes Sense' of Ancient Crete
by Karen Handley • October 17, 2013

Share: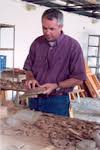 Archaeologist Tom Brogan '88 will talk about recent discoveries made in three excavation sites on the island of Crete during a presentation Monday, October 21 in Baxter Hall 101.
In "Flavors, Aromas, and Bright Colors: Making 'Sense' of New Discoveries in Late Bronze Age Levels on Crete," Brogan will discuss recent archaeological recovery methods used by his team to record the food and drink of Bronze Age people, giving us a much more accurate picture of their lifestyles, daily activities, and even their "life of the senses."

Brogan is the director of INSTAP Student Center for East Crete. He received his undergraduate degree from Wabash College in 1988 and his MA and PhD degree from Bryn Mawr College. He has been an active member of several excavations in east Crete during the past 20 years, primarily at Mochlos. His research interests include Minoan material culture (pottery, weights, and architecture). His lecture will review his recent excavations at three Neopalatial settlements in East Crete: Papadiokambos, Mochlos, and Chrissi.

Brogan's talk is free and open to the public. A reception will follow.