Plans For Monon Bell DVD Progressing
by Brent Harris • October 17, 2013

Share:
Ticket sales are underway and production has already started for both the national television broadcast and the commemorative DVD for the 120th Monon Bell Classic football game between Wabash College and DePauw University.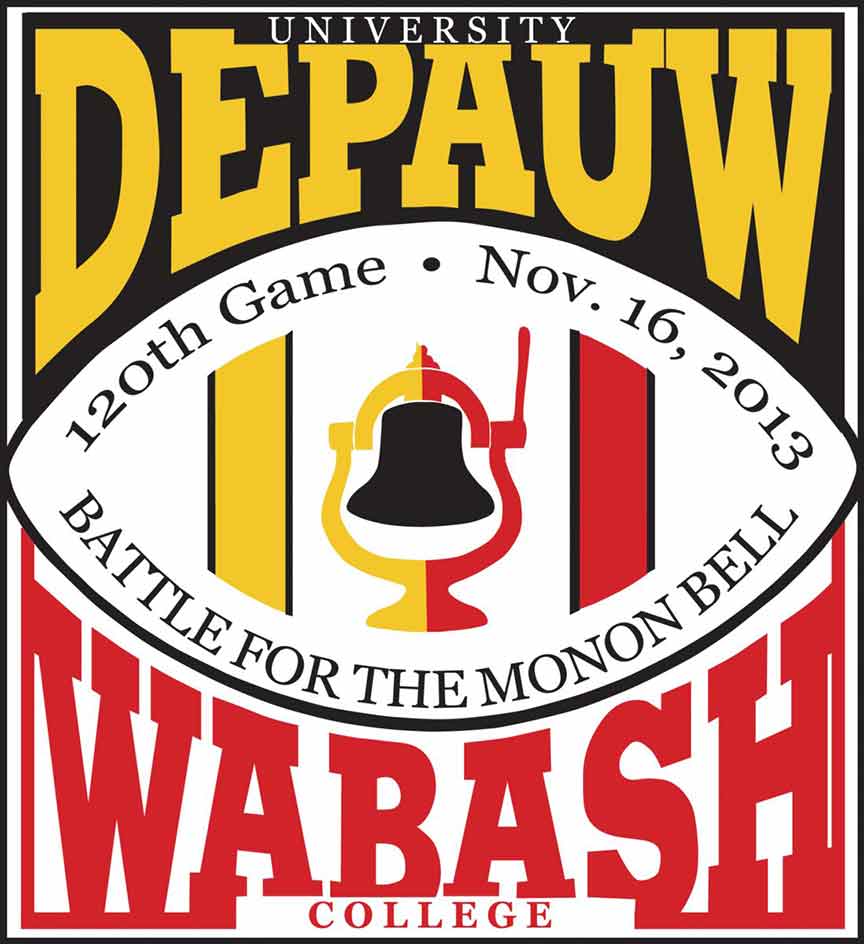 The DVD, which will be available for purchase from the Wabash Bookstore in early December, will include the AXS TV broadcast and two hours of additional content. Special features will include photo galleries from this year's game along with historical images from the rivalry, a video of the song "Ballad of the Monon Bell," and "Monon Memories" — highlights from various games throughout the 120 clashes between the two schools.
Wabash will receive 150 copies of the DVD to sell. An announcement will be made in December when purchases of the DVD can be made through the Bookstore's web site or in person during normal business hours. DVDs of previous games are currently available from the Bookstore in limited supplies.
Tickets for the game on Saturday, November 16 at Blackstock Stadium in Greencastle, Indiana are available for purchase online or in the Bookstore from 9 a.m. to 4 p.m. Monday through Friday and on home football Saturdays from 10 a.m. until one-half hour after all home football games. Tickets are $15 each, and every person attending the game must have a ticket regardless of age. Tickets purchased online will be delivered by mail. An additional shipping charge will be added to the total purchase for requests to mail the tickets to the purchaser prior to game day.
Tickets sold by the Bookstore are only good for the Wabash College seating at Blackstock Stadium.
The Student Senate has purchased tickets for current Wabash students. Students must bring their ID to the bookstore to receive their free Monon Bell ticket and may purchase additional tickets at the $15 rate. No free tickets are available for faculty or staff, and "W" passes held by Wabash College alumni will not be honored at this road game.

AXS TV will broadcast the game live for the ninth time. The game will be available through cable outlets throughout the country in addition to DirecTV (Channel 340) and the DISH Network (Channel 362).
Wabash and DePauw will meet for the 120th time on Saturday, November 16 at 1 p.m. at DePauw University. The Little Giants lead the series 57-53-9, making it the closest rivalry played more than 50 times than any other in the nation. Last year Wabash took a four-game lead in the overall series with a 23-0 victory at Hollett Little Giant Stadium. The Little Giants lead series 38-37-6 since the Monon Bell was added to the rivalry in 1932.