Creative Thinkers Fit Well
by Richard Paige • October 10, 2013

Share:
"Nothing beats the real world strategy of doing."
Those were the key words from advertising executive Nick Prihoda '99 during his presentation to students Monday evening in Baxter Hall, the third lecture in the series "The Liberal Arts at Work: Interesting People Talking About Interesting Careers."
The native of Kalamazoo, Mich., who majored in history with a minor in international studies, was always involved in something on campus, whether it be his fraternity, lacrosse, a semester abroad in Ecuador, or a regular column in The Bachelor, and that experience would serve him well down the road.
"At Wabash, I was involved in a ton of different things and that spontaneity, that variety, was just something I enjoyed doing," he recalled.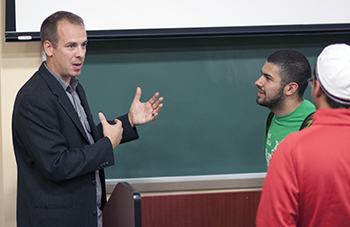 Following graduation, he worked for six years with the national office of Delta Tau Delta fraternity as the director of growth, establishing new chapters across the country.
But it was a chance conversation with a friend of a friend at a convention in San Antonio that changed Prihoda's career course and put him on a path to advertising. One that eventually landed him a spot with the Leo Burnett Agency in Chicago.
"When he brought up what the industry was and branding and positioning and those things, that's what I wanted to do," Prihoda said. "That's where the right momentum, passion and creativity was that I thought I could thrive in. That was the moment where advertising came up for me."
In an effort from the networking 101 playbook, Prihoda had the moxie to parlay that conversation to another, which led to further correspondence and phone calls with people at the agency. After a series of interviews he landed an entry level position in corporate operations at one of the world's leading advertising firms with no advertising experience whatsoever. A year later he moved over to account management.
"It's a link that makes no sense," he said. "But you never know who you are going to meet, and when you are going to meet them. You can't discount confidence either. It goes a long way in any industry. Anything I've done, I've always approached it as I'm here, I'm loving it and I'm going to make it the best I possibly can. I believe that good things happen to people who work hard."
After seven years at Leo Burnett working on accounts such as Allstate and Nintendo, Prihoda relocated to Indianapolis last December and joined Young & Laramore as an account director, handling clients like Brizo, Upland Brewing, Building Tomorrow, and Goodwill of Central Indiana.
Through it all, Prihoda hasn't lost the confidence gained from his experiences or the strength of his well-rounded education.
"I always knew the liberal arts education and my Wabash experience would set the tone for what I do today," Prihoda concluded. "It's great to see the interest in the industry for liberal arts majors, because I think we make some of the best candidates. We're always looking for creative thinkers who can think critically and solve any problem, not just the one we supposedly have been trained to solve."