Zionsville - 2013
by Steve Badger '87 • October 7, 2013

Share: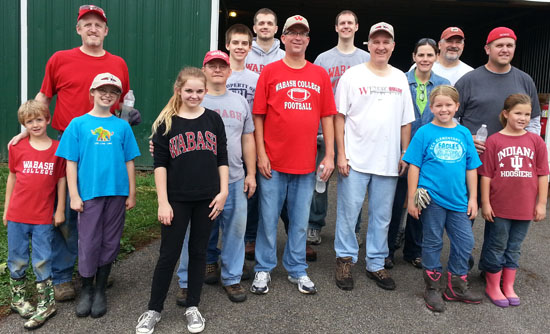 Seventeen Wabash alumni, family and friends joined together Saturday morning to lend a hand at Morning Dove Therapeutic Riding in Zionsville. This is the fifth consecutive year we have joined together to assist Morning Dove. Morning Dove serves to enrich the lives of individuals in the greater Indianapolis community with physical, cognitive and/or behavioral challenges through equine-assisted therapies and activities, including therapeutic riding, hippotherapy and equine learning.
A highly-motivated group organized by Scott Benedict '98 and Steve Badger '87 tackled a wide variety of chores, including cleaning out a horse trailer, hanging shelving in the barn, painting, and cleaning up after Morning Dove's full-time residents, the horses. We thank Morning Dove for keeping us busy with tasks suitable for the entire crew, which included varied capabilities. Everyone contributed to the overall success of the project.
Thanks to the following participants in the Zionsville Wabash Day Project: Bill Havlin '84, Zack Havling, Megan Havlin, Chuck Whybrew '94, Nathan Parmer '03, Riley Faulk '08, Scott Quick '88, Sophie Quick, Teddie Quick, Tom Julian '83, Jill Julian, Ruth Alexander, Shanna Alexander, Scott Benedict, Annadel Benedict, Avery Benedict, and Steve Badger '87.