Minneapolis - 2013
by Charlie Crowley '70 • October 7, 2013

Share:
On a cool and damp Minnesota morning, Wabash Day had three Wabash alumni participants in their volunteer effort: Erik Dove '88, Justin Killian '03, and Charles Crowley '70. The day took them to the Minnesota State Capitol grounds where the Wabash men joined a cadre of volunteers for Twin Cities in Motion.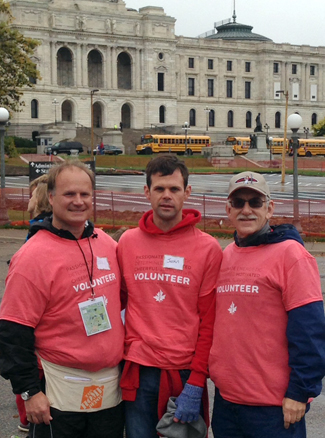 Twin Cities In Motion (TCM) is a 501(c)(3) nonprofit organization promoting healthy lifestyles through running outreach and community events since 1982. Its goal is simple--to inspire millions of miles and create billions of smiles among runners, friends, families and communities that TCM reaches. It works to inspire fitness and wellness, one mile at a time, among children, families, individuals and corporations.
TCM holds 21 race events annually for all ages and abilities. A unique giving model allows TCM to generate more than $750,000 annually for youth, wellness, charities and the sport of running.
On the day before the internationally known Twin Cities Marathon, Twin Cities In Motion held several race events: Family Fun Races, including the Toddler Trot, Diaper Dash and the Mascot Race; Age and School Grade races; 1 Mile and ½ Mile races; in addition to 10K and 5K races.
Our Wabash men performed several tasks including general event set up, being a walking information booth complete with a neck hanging map, manning the bag check area and handing out medals for the children's races. A smiling child with a medal on their neck is a great way to end a volunteer experience.