Wabash Day Serves Communities Oct. 5-6
• October 2, 2013

Share:
For the ninth straight year Wabash men will work this weekend to improve their communities from Indiana to Texas and beyond. The National Association of Wabash Men will provide manpower to community projects in more than 20 communities nationwide.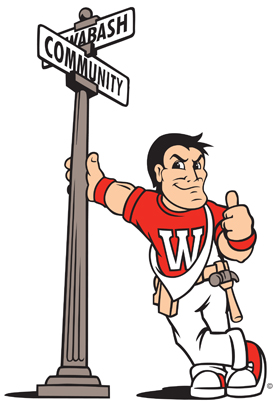 Projects will be completed Saturday or Sunday. Projects range from working at a food bank in Austin, Texas, to Wabash alums and students building a home on the near-campus Habitat for Humanity site.
Wabash Day – or Wabash Alumni Benefiting And Serving Humanity – has become a fall tradition. Ross Dillard '07, NAWM board member is helping lead this year's effort.
Alums in communities across the nation seek out projects and organize a group of Wabash men to show up dressed in red and help worthy causes with manpower.
A few other examples:
In Chicago, Wabash men will be working on a Ronald McDonald House;
In Bloomington, In., Wabash men will work at the Middle Way House – a shelter for victims of domestic violence and rape;
In Dallas, Tx, Wabash men will help clean up the school garden at John R. Good Elementary in Irving;
Wabash Day has partnered with Ronald McDonald houses across the nation this year. Click here to see all the communities where Wabash Day will make a difference in people's lives.