Washington Group Welcomes Lora & Greg Hess
by Tom Runge • September 24, 2013

Share: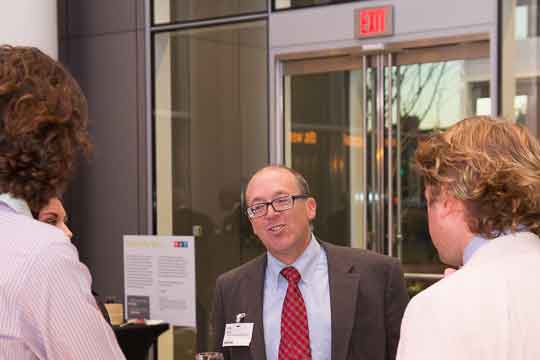 A great crowd welcomed President and Mrs. Hess to the Nation's Capitol. Thanks to the generosity of Trustee Jeff Perkins '89, the event took place at the new Headquarters of National Public Radio (NPR). It was a perfect setting for the reception.
Jeff Perkins introduced President Hess by recalling the past several days were like a mini-reunion as he caught up with local alumni after spending some time in Maine with a classmate and his family. Wabash is all about relationships, Perkins noted, and he believes Lora and Greg Hess have already formed a great bond with the Wabash family.
President Hess shared his vision for the College and took time to answer several questions. Greg and Lora made their way around the room and engaged all of the attendees. In addition to President and Mrs. Hess, Director of Development Jim Brehm and Associate Dean for Advancement Joe Klen '97 attended the event.
Many thanks go to Jeff Perkins and to the members of the National Capitol Association of Wabash Men for a great evening.
Photos:
Top - President Hess talks with several young alumni
Middle - Trustee Jeff Perkins '89 and President Greg Hess
For more photos from the event, click here.