Porter's Return Lifts Little Giants Spirits
by Jocelyn Hopkinson '15 • September 14, 2013

Share:
C.P. Porter made a rather spectacular and emotionally-uplifting return to football Saturday. The senior running back shattered his leg a little more than 11 months ago.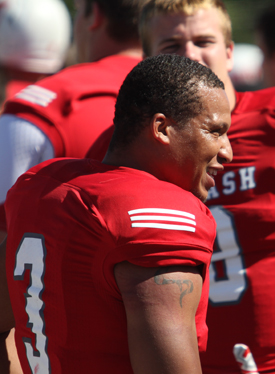 Porter's 2012 season came to a gruesome halt when he broke his leg Oct. 20 against Wooster.
"I just waited so long for this," Porter said. "It felt really good. Everybody was so supportive, my team, and the fans. It was just great to get out there."
Porter returned looking like he'd never missed a beat. He capped a 10-play scoring drive, carrying the ball seven times himself, with four-yard push across the goal line. The defense stood him up at the four but Porter's healthy legs drove the pile into the end zone.
"I was pretty confident," he said. "After the first initial hit and getting back up, it was back to what it was - just football."
Porter carried the ball 6 times for 36 yards and the score. He admitted the leg is still on the mend.
"I'm constantly going to rehab," he said. "An injury like this, it's something I'm going to have to deal with for a long time. I just keep working, keep rehabbing, and keep stretching."