Civil War Commemoration Set for Sept. 27
• August 28, 2013

Share:
Wabash College will commemorate the 150th anniversary of its involvement in the Civil War with a day-long event titled "500 Strong: Wabash College Students in the Civil War." Faculty, staff, and alumni will make presentations and Lilly Library will host a special exhibition on Friday, September 27, 2013. The public is cordially invited to attend and may register for the event here.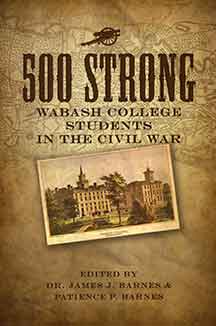 Highlighting the event will be the release of the book 500 Strong: Wabash College Students in the Civil War, a volume more than 25 years in the making. Edited by Emeritus Professor of History James J. Barnes and Patience P. Barnes, the book includes biographies of more than 500 Wabash College students, professors, and alumni who fought in the Civil War.
Most of the biographies were researched and written by Wabash College students taking Professor Barnes' senior seminar course in American history over the course of more than 20 years.
"Not only does the book contain individual bios of veterans of the Civil War, it also includes numerous sidebars, stories, and soldiers' diary entries illuminating little known details of the war," said Arthur R. Baxter '56, who, along with his wife Nancy, co-owns Hawthorne Publishing, the company that published 500 Strong. "Over 100 battles or skirmishes are represented and several important generals like James J. Reynolds and Edward Canby and of course Lew Wallace, all Wabash men, are given special attention."
Jim and Patience Barnes will kick off the event with a discussion of their new book at 1:00 p.m. The afternoon will feature presentations on the Battle of Chickamauga, the Colored Regiments of the Civil War, the Nature of Warfare, and Abraham Lincoln and the Civil War.
Two descendants of Wabash alumni who fought in the Civil War, Bob Quirk '50 and Ezra Ball '96, will also make a presentation.
All events will be held in Hays Science Hall in room 104 on the Wabash campus.
A reception and dinner will be held at 6:00 p.m. in Detchon Center's International Hall. The keynote speaker will be Dan Crofts '63, who is Professor of History at the College of New Jersey and a frequent contributor to the New York Times blog "Disunion." Cost of the dinner is $25 per person and reservations are required. Please contact Heather Bazzani in the Alumni and Parent Relations Office if you have questions or special dietary restrictions.
To register for the event, please sign up here.
500 Strong: Wabash College Students in the Civil War
Program Agenda (All presentations in Hays Hall Room 104)
All Day — Special Indiana and the Civil War Exhibit in Lilly Library
12 noon — Optional Faculty-Staff Luncheon ($5 at the door; RSVPs required; Sparks)
1:00 p.m. — Wabash College's Commemoration of the Civil War (Kurt Homann, Master of Ceremonies)
1:00 p.m. — Jim and Patience Barnes: 500 Strong: Wabash College Students in the Civil War
2:00 p.m. — Brent Harris H'03, Director of Sports Information and Marketing: "Through the Eyes of Henry Campbell: The Battle of Chickamauga"
2:45 p.m. — Break
3:00 p.m. — Bob Quirk '50 and Ezra Ball '96: "Descendants of Wabash Men who fought in the War"
3:45 p.m. — Dr. Stephen Morillo, Professor of History, Wabash College: "Fighting the Civil War: The View from 1815"
4:15 p.m. — Dr. Tracey Salisbury, Assistant Professor of History, Wabash College: "Carrying Their Own Load: The Colored Regiments of the Civil War"
4:45 p.m. — Break
5:00 p.m. — Roger Billings '59, Law Professor, Northern Kentucky University and author of Abraham Lincoln, Esquire, The Legal Career of America's Greatest President (2010): "Abraham Lincoln and the Civil War"
6:00 p.m. — Booking Signing, Cocktails and Dinner in Detchon International Hall
7:30 p.m. — Keynote Address by Dr. Daniel Crofts '63, Professor of History at the College of New Jersey and a frequent contributor to the New York Times blog Disunion: "Lincoln's Plea for Peace: The Would-Be 13th Amendment and the Coming of the Civil War "