Hess: Four Gets Not To Forget
by Jim Amidon • August 24, 2013

Share:
In his first official function as the 16th President of Wabash College, Gregory Hess challenged the students in the Class of 2017 to make the most of their four years on campus and leave the College a better place. He then used the bell that Caleb Mills rang to call the first men to class 180 years ago to "ring in" the freshmen to the grand, tradition-rich experience that is Wabash College.
On a warm afternoon, President Hess welcomed 245 freshman students and their families into the Wabash community.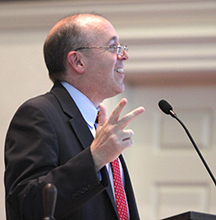 "Class of 2017, we have a lot in common — more than you think," the President said. "Just like you, I am new to Wabash College, though I have a 55-day head start on you. You are the first class to join me at Wabash and I will never forget you. As the 9th century Arab classical poet Abu Tammam wrote, ''Mal-Hubbo illa Lil Habeebi Al-Awwali — There is no love like the first love.' You will be more equal than all other equals in my eyes. We will be brothers."
The President's 245 brothers come from 23 states and eight foreign countries. A whopping 40 percent of the students were referred to Wabash by alumni, and 30 are either the sons or brothers of Wabash men. Together they earned more than $3.5 million in scholarships.
The President's advice for the freshmen came in four simple suggestions: Get to Work, Get Involved, Get to Bed, and Get Help.
"College courses are hard, though certainly not impossible," he said. "Among other things, you are here to work. Make that the priority… Life gives us no sufficient conditions for success. Hard work is really the only necessary condition."
He said that while hiding in their rooms might serve them well around midterms and finals, he urged the students to make friends who enjoy similar passions and discover all the College offers.
About getting to bed, the President said, "Every sad college story has the same first sentence: 'It was late at night.' I do not recommend that first sentence for a short story or for the story you will write about yourself here at Wabash. When people around you start making bad decisions late at night, stop what you are doing and go to bed. Decisions look a lot different in the morning light. I recommend you use that as your guiding light."
Finally, he urged the students not to go it alone. "If you need help with your school work, or in looking for an internship, or with your health, or with your state of well being, it is incumbent upon you to get some help. There are people here, no matter the problem, who can help you. It is an important sign of maturity and wisdom to get help when you need it. No man is an island. Get help when you need it."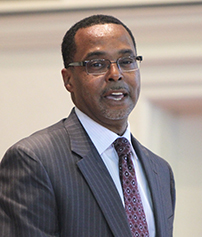 Senior Associate Dean of Admissions Walter Blake introduced the Class of 2017 to one another when he highlighted some of the class superlatives. The class includes:
29 men who attended Boys State
14 men who are Eagle Scouts
61 men who were involved in high school government
149 men who were involved in the fine arts
Several high school mascots
A member of USA Triathlon
An internationally touring a cappella singer
A Black Belt instructor for Tae Kwon Do
And a young man whose profitable YouTube Channel has accumulated more than four million views
"Class of 2017, you will live together, learn together, play together and grow together, and, four short years from now, you will be rung out together," Mr. Blake said. And then, in keeping with his role as recruiter extraordinaire, he said, "My final charge to the Class of 2017 is this: if any of you has a smart younger brother, male cousin or neighbor, or even a paperboy, you are hereby charged to submit his name and contact information to the Admissions Office by the end of your first day of classes."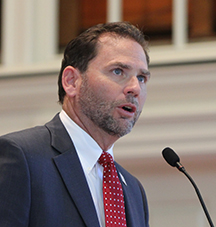 Blake ceremonially turned the Class of 2017 over to Dean of Students Mike Raters '85, who served as master of ceremonies.
In accepting the class, Dean Raters said, "At the heart of our work is the mission of the College. While you are all successful in your own right, we will all push you to give more, work harder, strive higher, go further than you may think you can right now. And we will all be there to support you, push you, educate you — in the classroom and out — to think more critically, act more responsibly, lead more effectively, and live more humanely than you have to this point in your life. This is good, hard, labor — student-centered work that you will find we will perform with passion and energy."
Greg Estell, Class of 1985 and the President of the National Association of Wabash Men, brought greetings from the alumni body and gave the new students a sense of the tradition they inherit as Wabash men.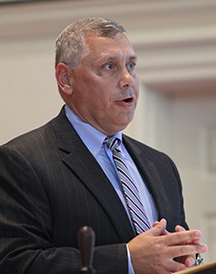 "Your professors will be challenging, just like they were with my class," Estell said. "Your coaches on the field and directors on the stage will do the same. They will teach you, push you, demand more than you think you can produce, and help you when you fail… And it won't be just members of the Wabash teaching brigade who help you. Your fellow students will do the same. You will discover how to learn from and teach your peers; how to lead and how to follow, with the intellect and guts to know when to do each. These are critical skills for your success after college."
Estell reeled off the names of a half-dozen of his classmates from the Class of 1985 who are making a difference in the world — from Jim Davlin (treasurer of General Motors) to Mike Raters (Dean of Students at Wabash) and including Wabash professors Michael Abbott and Scott Himsel.
"Many alums, like me, look back on their Wabash experience and recognize it as a fundamental turning point in our lives," said Estell. "We are grateful not just for the education we received, but the relationships that shape our lives and make us better men. So much of that stems from the College living and breathing its motto: Scientiae et Virtuti — knowledge and guts. [Wabash men have] the courage to use that knowledge, ask tough questions, and dare to lead, to succeed, even in the face of failure. And that's how this little college in a small town in western Indiana changes lives, gentlemen. The lives changed will be yours – if you dare. And you, in turn, will change the world."
President Hess ended the ceremony just as the last five presidents have — using the very same bell that Caleb Mills used to ring in the first class of students 180 years ago — and issuing a charge to the men in the Class of 2017: "I challenge you to live up to our high expectations set forth in our mission and Gentleman's Rule…. Welcome to the Brotherhood."
More News
---
---
Related
---
Photo Galleries

Ringing In the Class of 2017