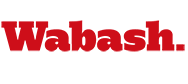 Strausbaugh Named Little State MVP
by Brent Harris

December 3, 2011

CRAWFORDSVILLE, Ind. — Jake Strausbaugh defeated two top-seeded opponents to win the 149-pound weight class, and was voted the Most Outstanding Wrestler of the 2011 Indiana Little State Tournament held Friday and Saturday at Wabash College.

Strausbaugh posted a 3-0 record for the weekend in his weight class to earn the award. He opened Friday's action with a 6-0 win over Blake Wood from the University of Indianapolis, then knocked off fifth-seeded Forrest Romer from Trine by a score of 10-7 in the semifinals. A 10-7 victory against sixth-seeded Reece Lefever in the finals gave Strausbaugh the victory.

View photos by Drew Casey '12 here.

Strausbaugh was one of 14 Little Giants to earn top-eight finishes in the tournament.

Dalton Stanley was also an individual champion at 165 pounds, finishing with a record of 3-0. Entering as the number-four seed, Stanley defeated Andre Foster from Lincoln College 8-1 to move into the championships semifinals for a match against James Bennett. Bennett had already defeated the top seed in the tournament, but Stanley vanquished him by a score of 5-4. The win put Stanley in the championship, where he defeated number-two seed Cedric Gibson from Wisconsin-Whitewater 6-5.

Josh Boyer finished second in the 125-pound weight class. The top seed heading into the tournament, Boyer scored a pin at the 3:43 mark of his match against Paul Beck from Indianapolis. He followed with a 7-6 victory against fourth-seeded Andre Sanders from Indiana Tech, but lost 7-2 to second-seeded Anthony Hawkins from Calumet College of St. Joseph's in the finals.

Colin Downey, Drew Songer, and Dylan McBride each grabbed third place finishes at the tournament. Downey was 3-1 at 141 pounds, while Songer posted a 5-1 record at 174 pounds. Joran Fenton added a seventh-place finish in the 174-pound weight class bracket. McBride finished the weekend with a 4-1 record at heavyweight.

Tommy Poynter finished sixth at 125 pounds. Pat Parham finished eighth at 133 pounds. Josh Sampson was 5th at 157 pounds, while teammate Cody McKinnon finished seventh. Logan cooper was fourth at 184 pounds, with Greg Rhoads finishing in fifth place. Austin O'Neal was sixth at 197 pounds.