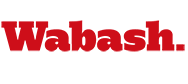 Wabash Season Ends in Quarterfinals
by Howard W. Hewitt

December 3, 2011

ALLIANCE, OH. – Mount Union ended Wabash's playoff run here Saturday with a tough 20-8 win over the Little Giants. The defensive effort was again outstanding but the offense was not able to sustain drives against D3 football's best defense.

See photos here,here, here and here. See feature photos from Saturday's trip to Mount Union here. View a photo album from Bachelor photographer Kelly Sullivan '15 here.

The 12-1 Little Giants finished the season losing to the 10-time national champions but gained experience and respect from the Purple Raiders.

"I'm proud of our efforts but like last week we just dug ourselves too big of a hole in that first half and we just couldn't recover," Little Giant Coach Erik Raeburn said.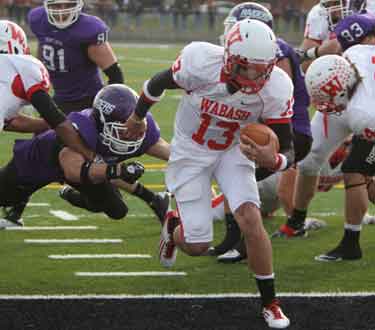 The Wabash defense was dominating early with outstanding pressure on the Raider quarterback. The game's first score came after Wabash had backed Mount Union up to its own four-yard-line facing second-and-24.
But Jeremy Murray, who ran for 152 yards on the day, found a seam up the middle for 46 yards to swing the momentum. He later scored on that drive from 17 yards out, 7-0.
Tyler Burke, who led the remarkable comeback a week ago over North Central, started Saturday but struggled to find open receivers. He took a big hit late in the first half and was replaced by 11-game starter Chase Belton.
Early uncharacteristic Wabash mistakes, including a blocked punt and muffed kick reception, handed the hosts opportunities that the Wabash defense largely denied.
The Purple Raiders blocked a Wabash punt and took over on the Wabash 10-yard line. But the defense held in three plays. Tyler Almeida knocked through a 22-yard field goal, 10-0.
Wabash had another three and out before Mount Union took over. Again the defense forced the Raiders to punt but the kick was fumbled giving the Raiders another golden opportunity from the 12-yard line. After a 1 yard rush, freshman Houston Hodges stepped in front of the Mount Union receiver near the goal line and intercepted a Neal Seaman pass.
"I think their pressure caused us to miss some defenders and then they made the tackle," Mount Union Coach Larry Kehres said. "Particularly the middle linebacker (C.J. Gum), I think he had three sacks in the first half and numerous tackles on plays that had a chance to be good plays.
"I think our effort was outstanding but that's an excellent defense. Coming into this game they were right behind us in rushing yardage allowed. They forced us to miss some things with good strategies."
Mount Union was playing with a short field most of the first half and capitalized just before half time. Kevin Burke hit Jasper Collins for 17 yards in the first half's final drive. Then Murray ran for 15 and 10 yard before scoring from the one, 17-0.
"They were probably one of the bigger offensive lines we faced all year," said Wabash defensive lineman Pat Clegg. "They had good feet too. We weren't as big but we've got some speed."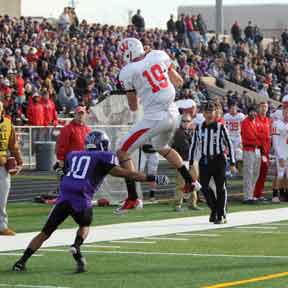 Wabash got some offense going in the second half but not until after a rough start. Belton took over but was intercepted on his first pass setting the hosts up on their own 20-yard line. The defense again rose to the challenge and held Mount Union to Almeida's 33-yard kick. With 13:18 remaining in the third quarter and leading 20-0, Mount would not score again.
Wabash started to move the ball and went 13 plays for 65 yards but couldn't convert a fourth down from the 13-yard line. The defense forced a Mount Union fumble on the next possession and put the offense right back in business at the Mount. 18.
Wabash moved the ball to the 5 where Belton appeared to score on a four yard run. Officials ruled his knee had gone down. The Little Giants then scrambled to get the play in on fourth down and Tyler Holmes was sacked for a loss.
Mount took over on downs but couldn't move the ball. From the goal line, Wabash appeared to sack Kevin Burke in the end zone but the officials marked the ball at the one. Following a short run, the Raiders took a safety instead of punting, 20-2.
Wabash got the ensuing kick and scored its only touchdown of the game. Belton hit Brady Young for 8 yards then for 26 more to set the offense up at the Mount 7 yard-line. A pass interference call then set Belton up for a 4-yard run and the touchdown. The Little Giants failed on the two-point conversion, 20-8.
Mount totaled 236 yards of total offense to Wabash's 163. A big difference came in the 136-31 rushing numbers. The Little Giants had 163 passing yards to Mount's 100.
Belton and Burke combined to hit just 18-of42 passes for those 163 yards. Six different Wabash receivers caught passes.
"They're fast but I don't know if there was any adjustment period, they're a very good team and we just played poorly in the first half," Raeburn said. "We have to improve our depth, late in the season we started getting guys hurt and we can't withstand it as well as a team like Mount Union. We have to improve in that area."