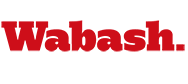 2011 Wabash Day - Colorado
by John Panozzo, '89

October 17, 2011

The Colorado Association of Wabash Men enjoyed another successful Wabash Day on a glorious fall afternoon in Golden, Colorado. This was our third year partnering with the Jeffco Action Center, a non-profit organization which provides human services and basic needs to the less fortunate in Jefferson County. We had 14 hard-working Wabash Men perform the repacking of unsold goods and clean up for the Action Center's Annual "Beautiful Junk Sale". Our group saw the project to its completion logging in a combined 56 hours of service.


After the work was completed the alumni gathered at the Old Capitol Grill in downtown Golden for dinner and stories. A great time was had by all. Hopefully not too many sore backs on Sunday morning.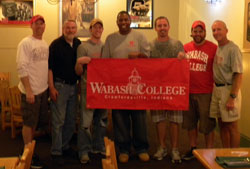 Roster of Volunteers:
1. John Panozzo '89
2. Tony Caldwell '07
3. Tim Gagen '76
4. Todd Mikesell '87
5. Jack Mikesell (2019)
6. Doug Ross '05
7. Jerry Schaefer '67
8. Eric Vaughn '11
9. Alex Barefoot '04
10. Adam Boushie '00
11. Al Hart '69
12. Paul Day '70
13. Lee Sutton '00
14. Stan Miller '61
In Photo: John Panozzo,'89, Jerry Schafer '67, Eric Vaughn '11, Doug Ross '05, Adam Boushie '00, Alex Barefoot '04 and Tim Gagen '76