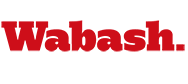 Golfers Sixth after First Day at Hiram
by Brent Harris

May 1, 2011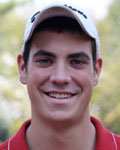 Senior Luke Moton and freshman Seth Hensley each finished with a score of 116 after 27 holes of play at the 2011 Hiram Golf Invitational. The two-day, 54-hole competition is part of the North Coast Athletic Conference Championship.
Moton (right) fired an 81 after the first 18 holes on Saturday before shooting a 35 on the final nine holes of competition to tie for ninth place in the individual standings. Hensley scored a 79 over the first 18 holes, then finished with a 37 to tie with his Wabash teammate.
Jake German shot a 119 (79-40) to tie for 21st place. Jordan Koch tied for 32nd (86-38=124). Michael Piggins tied for 36th place after one round of play (88-42-130).
The Little Giants are in sixth place after the first day with a total of 475 strokes. Wabash shot a 671 to finish in sixth place at last weekend's first event of the NCAC Championship, hosted by the College of Wooster. The scores from both the Wooster and Hiram events will be combined to determine the final NCAC men's golf standings.
Game Stats