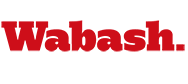 Tennis Completes Record-Setting Season
by Brent Harris

April 30, 2011

A 5-3 victory by Wabash against Allegheny in the finals of the 2011 North Coast Athletic Conference Men's Tennis Tournament gave the Little Giants a third place finish a school-record 18th win for the season. Wabash finished third in the final conference tournament standings for the third consecutive season.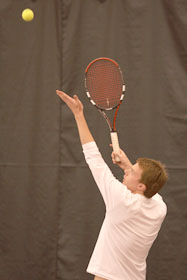 Freshmen Daniel Delgado and Wade Miller opened play against the Gators with an 8-2 victory at number one doubles. Ricky Ritter and Peter Gunderman scored an 8-4 win at number two doubles, while Ian Leonard and Evan Bayless completed the sweep with an 8-2 win in the third doubles flight.
Allegheny rallied for three wins in singles play before the Little Giants could take the match with three singles wins of their own. Miller won 6-3, 7-6 (4) at number two singles to give Wabash a lead in the team score. Ritter (right) scored the matching-winning victory in his final collegiate career match with a 6-0, 6-0 shutout at number five singles.
Wabash finished the year at 18-10, eclipsing the mark of 17-11 to set the old record one year ago.
Game Stats