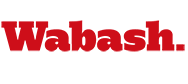 Little Giants Split NCAC Tennis Tourney Matches
by Brent Harris

April 29, 2011

Wabash opened the 2011 North Coast Athletic Conference Men's Tennis Tournament with a 5-0 sweep of host school Oberlin Friday morning before falling 5-0 to nationally-ranked Kenyon in the afternoon.

The Little Giants swept the three doubles' matches against Oberlin in the first round. Daniel Delgado and Wade Miller won 8-2 at number one doubles, while Peter Gunderman and Ricky Ritter scored an 8-5 victory at number two doubles. Ian Leonard combined for an 8-5 win in the third doubles flight.

Miller won 6-3, 6-1 at number one singles. Delgado picked up a 6-3, 6-3 win at number four singles.

Ritter and Gunderman battled Kenyon's Kevin Ye and Jake Matthews before falling 9-7 at number two doubles of the semifinal round.

Wabash is 17-10 overall for the season. The Little Giants will face Allegheny College in the third place match on Saturday.