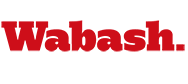 Wabash Pounds Out an NCAC Tourney Win
by Brent Harris

April 29, 2011

Wabash scored 12 runs in the first two innings against Ohio Wesleyan Thursday night on the way to a 17-9 victory in game two of the North Coast Athletic Conference Baseball Tournament. The Little Giants collected 22 hits in the nine-inning win.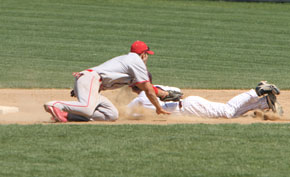 John Holm and PJ Tyson each had solo home runs for the Little Giants, but it was a steady supply of hits from the bottom of the order that helped Wabash claim the first round tournament victory, setting up a noon contest on Friday in Chillicothe, Ohio against Wooster in the second round. The Scots rallied from a 10-1 deficit in Thursday's first game to claim a 17-13 win over Wittenberg.
Tyson, David Seibel, Joe Johnson (right), and Robby Hechinger each had three hits for the Little Giants. Johnson finished with five RBI, while Seibel had four and Hechinger added three. Chris Deig, John Pennington, Holm, Montana Timmons, and Tanner Coggins each had two hits in the contest.
Andrew Swart took advantage of the offensive attack, earning his seventh win of the season by pitching seven innings and allowing eight runs on eight hits. Nate Adams worked the eighth inning and a portion of the ninth, holding the Battling Bishops (21-14) to a run on five hits with two strikeouts. Jeff Soller closed out the contest with a bases-loaded double play ball and a flyout to right.
Wabash improves to 19-20 with the win. The winner of Friday's game between Wabash and Wooster will play in the championship game on Saturday, while the loser will play the winner of the Ohio Wesleyan vs. Wittenberg game to be played at 4 p.m. on Friday as part of the double elimination tournament.