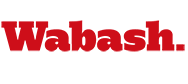 Baseball Versus DePauw Moved to Wednesday
by Brent Harris

April 11, 2011

Tuesday's baseball game between Wabash College and its arch-rival, DePauw University, has been moved to Wednesday afternoon due to weather conditions.

Game time at Wabash Ballpark is still scheduled for 4 p.m. Sporadic rain showers have fallen across Indiana throughout most of Monday, forcing the game to be postponed for 24 hours.

The Little Giants are coming off a pair of victories at Hiram College on Sunday after dropping two game at Allegheny Saturday afternoon.