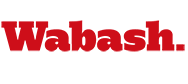 Ambrosio, Waterman Post Wins at Miami Invite
by Brent Harris

April 10, 2011

Jake Waterman won the 800-meter run with an NCAA Division III provisional qualifying time at the Miami University (OH) Invitational. Teammate Daniel Ambrosio won the javelin throw with his best effort of the season. Wabash finished seventh out of 18 teams at the two-day event.

View photos from the meet taken by student-athlete Alex Moseman '11 here, here, and here.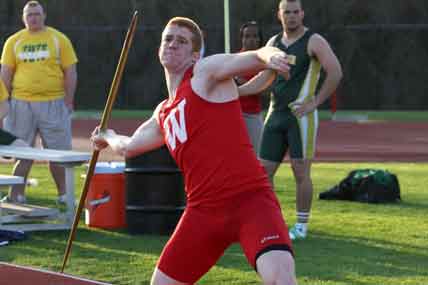 Waterman claimed the top spot in the men's 800 with a time of 1:51.85, his quickest of the season and faster than the provisional qualifying mark of 1:52.7. He was less than a second off the automatic qualifying time of 1:51.1.
Ambrosio (left) posted another victory in the javelin, winning with a mark of 55.91 meters (183 feet, 5 inches). Evan Groninger took third place at the event for the Little Giants with a throw of 53.76 meters (176 feet, 4 inches).
Kevin McCarthy added a top-five finish for Wabash in the 3000-meter steeplechase. He crossed the finish line in second place with a time of 9:16.78. Seth Einterz took third place in the 5000-meter run with a time of 14:47.6.
Sophomore John Haley ran his best time of the season in the 200-meter dash, finishing with a time of 22.79 to finish in 17th place in a highly talented field of competitors. Haley's time of 49.37 in the 400-meter dash was also his fastest of the season, earning him a 12th place finish. Billy Rosson's time of 55.11 was also his quickest of the season in the 400-meter hurdles, earning him a 10th-place finish. Donavan White also reached a new season high in the 1500-meter run, finishing with a time of 4:00.42 to finish 22nd.
Devin Kelley also posted a season-best effort in the discus with a mark of 40.65 meters (133 feet, 4 inches) for a 30th place finish.
Wabash scored a total of 41 points overall while competing against several NCAA Division I teams at the meet. Miami won the meet with a total of 116 points.
Game Stats