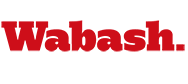 Tennis Finishes 2-1 at Great Lakes Invitational
by Brent Harris

April 10, 2011

Wabash opened the 2011 Great Lakes Tennis Invitational with a 7-2 win at Albion, but lost its following match 8-1 to Case Western Reserve. The Little Giants closed out play on Saturday with a 6-3 victory against Hope College.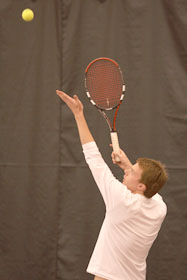 Daniel Delgado and Wade Miller combined for a hard-fought 9-8 victory at number one doubles in the opener against Albion. The duo earned the extra game victory by a score of 7-3. Peter Gunderman and Ricky Ritter combined for an 8-3 win at number two doubles. Zach Lowry started a string of singles victories, rallying from a first set loss at number singles to win 3-6, 7-5, 6-1. Delgado earned a 6-3, 6-3 win at number three singles, while Miller scored a 6-2, 6-2 victory at number four singles. Ritter (right) picked up a 6-3, 6-4 win at fifth singles, while Ian Leonard finished off the team victory with a convincing 6-1, 6-4 victory in the sixth flight.
Miller earned the only win for Wabash against Case Western Reserve with a three-set 6-2, 4-6, 11-9 marathon win at number three singles.
Gunderman and Ritter were 8-3 winners at number two doubles against Hope College. Leonard and Evan Bayless combined for an 8-4 win at number three doubles. Lowry won 7-6, 6-1 playing at number one singles, while Miller moved to the second flight at number two singles for a 6-3, 6-2 victory. Ritter claimed a 6-3, 6-1 win at number three singles. Phil Kubisz tallied the final point for the Little Giants with a 6-3, 7-5 win at number five singles.