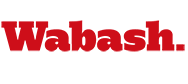 Wabash Slugs To A Split Against Ohio Wesleyan
by Brent Harris

April 4, 2011

High winds helped the offenses of both Wabash and Ohio Wesleyan on Sunday afternoon. The two North Coast Athletic Conference teams combined for 62 runs and 67 hits in a pair of seven-inning games. Wabash took a 22-9 win in game two after dropping a 21-10 decision in game one.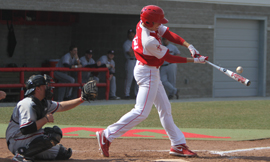 Each team blasted six home runs and a total of 23 extra-base hits thanks in part to winds the gusted as high as 35 miles an hour during the day. John Holm crushed two monster shots, including a huge home run that hit the Collett Tennis Center nearly 500 feet away from home plate. Montana Timmons (left) added two home runs while going 5-of-8 at the plate with eight RBI. Holm batted .750 in the two games by going 6-for-8 with seven RBI. Tanner Coggins was also 6-for-8 with a triple and four RBI.
John Pennington and Joe Johnson each added home runs in the offensive explosion for Wabash.
The Little Giants put up 11 runs in the first inning and seven in the second to blow open the second game of the day. Wabash pounded out 24 hits on the way to the 13-run victory. Luke Zinsmaster worked six innings to pick up his second win of the year. He surrendered 10 hits and seven earned runs with one walk and four strikeouts. Pete Schmith pitched the final inning with two hits allowed with one walk and one strikeout.
Wabash trailed 9-4 before scoring six runs in the fifth inning to take a 10-9 lead. Ohio Wesleyan (12-12, 4-4) answered with four runs in the sixth and eight in the seventh for the victory.
The Little Giants move to 11-15 overall with the split and 4-2 in NCAC play.