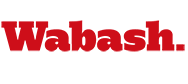 Wabash Takes Second at DePauw Outdoor Invite
by Brent Harris

April 2, 2011

Wabash finished second out of 11 teams Saturday at the DePauw University Outdoor Track and Field Invitational. Jake Waterman and Daniel Ambrosio captured individual titles for the Little Giants.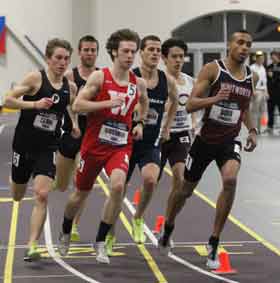 Waterman (left) took first place in the 1500-meter run, finishing the race with a time of 4:07.93. Teammate Donavan White took second place, crossing the finish line in 4:08.50
Ambrosio won the javelin throw one week after claiming North Coast Athletic Conference Men's Field Athlete of the Week honors. The junior took first place in the event with a mark of 51.51 meters (169 feet).
John Haley took second place in the 400-meter dash with a time of 50.06. Wes Chamblee celebrated his return to the track after a serious knee injury suffered in the first game of the fall football season by taking third place with a time of 50.35. Billy Rosson added a second place finish in the 400 hurdles, finishing in 55.93.
Matt Scheller took second place in the hammer throw with a mark of 49.66 meters (162 feet, 11 inches). He was also fourth in the shot put with a mark of 15.05 meters (49 feet, 0.75 inches). Wabash also added a second place finish in the 400-meter relay (43.50).
Justin Allen captured third place in the 5,000-meter run with a time of 15:38.90. Trevor Young was third in the pole vault after clearing 4.45 meters (14 feet, 7.25 inches). Patrick Posthauer scored a fifth place finish in the 110-meter hurdles (15.15).
Vincennes won the meet with a total of 154 points, with Wabash in second by scoring 122 points. Indiana Wesleyan took third place (120), followed by Taylor (89.5), Rose-Hulman (85), and Illinois Wesleyan (63). Case Western Reserve (32), DePauw (31), St. Francis (17), Manchester (15.5), and Mount St. Joseph (8) completed the team scoring.