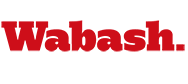 Wabash Goes Extra Innings In Sweep of Oberlin
by Brent Harris

April 2, 2011

The Little Giant baseball team needed extra innings to take a two-game series sweep over Oberlin Saturday afternoon at Wabash Ballpark. David Seibel's RBI single in the eighth gave Wabash a 6-5 win in game two after claiming a 6-2 victory in the opener.

Chris Deig started the rally in the eighth with a one-out walk. Tanner Coggins put a second runner on base when he was hit by a pitch. A fielder's choice by PJ Tyson put runners on the corner to set the table for Seibel. The senior drilled a pitch down the left field line to score Deig with the game-winning run.

Luke Zinsmaster earned the win in relief of Brian Van Duyn. Zinsmaster allowed one hit and struck out one batter in one inning of work. Van Duyn pitched seven innings with nine strikeouts to go with five earned runs on nine hits.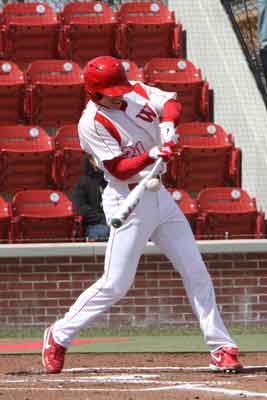 Montana Timmons (left) went 2-for-4 in the game, including an RBI triple in the third inning. He later scored on a Deig single. Junior Brian Lares opened the game with his second home run of the season. Tyson added an RBI single in the second to go along with an RBI triple by Coggins to help the Little Giants take a 5-1 lead.
Wabash scored four runs in the fourth inning of game one to blow open the contest against Oberlin (9-9, 0-2 NCAC) and give North Coast Athletic Conference Pitcher of the Week Andrew Swart his fourth win of the season. The Little Giants took a 2-0 lead in the first on RBIs by Timmons and Coggins. Oberlin answered with two runs in the third before the Wabash offensive explosion.
Joe Johnson started the fourth with a double, scoring on a John Pennington single. A bases loaded single by Deig three batters later put the Little Giants up 4-2. Coggins added another run with a single to third before Tyson closed out the scoring with a sacrifice fly.
Swart threw a complete game, scattering six hits and one walk with eight strikeouts. He gave up two earned runs.
Timmons went 3-for-4 from the plate in game one, while Pennington and Coggins each had two hits. Coggins also produced two RBI.
Wabash improves to 10-15 with the victories and 3-1 in league play. The Little Giants face Ohio Wesleyan on Sunday afternoon in a pair of seven-inning game slated to start at 1 p.m.