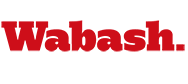 Leonard Wins Singles Title at Kerry Seward Tourney
by Brent Harris

March 27, 2011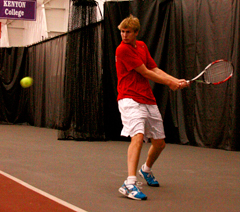 Ian Leonard won all three matches at number six singles at the 2011 Kerry Seward Invitational to win the individual title in that flight. His victory helped Wabash finish third out of eight teams at the event.
The Memorial is a combination of a dual match of six singles and three doubles flights in a tournament draw format. Team points are earned by the finishing place of each individual player to determine the tournament champion.
Leonard (right) opened play on Saturday with a 6-2, 6-0 win over Transylvania's Tyler Pewitt. Leonard cruised to a 6-1, 6-0 win over Brian Howes from Carthage in the second round before defeating Blake Troller from Ohio Northern 6-1, 6-1 in the finals.
Ricky Ritter finished second at number five singles. The senior scored two early victories — a 6-4, 6-1 win against Daken Starkenburg from Coe College and a 6-3, 6-2 win against Nick Boomgarden from Carthage. Coe's Sean Stokstad defeated Ritter 6-3, 7-5 in the finals.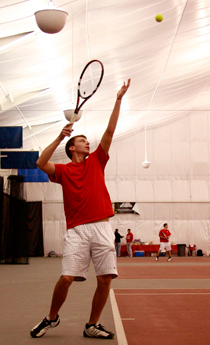 Ritter (left) and teammate Peter Gunderman were second at number two doubles. The duo picked up an 8-6 victory in the first round against the Coe doubles team of Matt Whiteside and Boomgarden. An 8-3 win against Curtis Newman and Kyle Tucker from Coe in the semifinals sent the Wabash team to the championship match, but an 8-5 loss to Michael Kathary and Khang Do Thai gave the Little Giants a second-place finish.
Leonard combined with Evan Bayless to take second place at number three doubles. An 8-1 victory over Brent Frizell and Michael Weber from Rose-Hulman and an 8-4 win over Russell Mull and Howes from Carthage was followed by an 8-5 loss to Jeff Damisch and Michael Janssen from Coe in the finals.
Wade Miller took third place at number four singles. He opened with a 6-4, 6-4 victory against Ohio Northern's Nick Kowalczyk before falling 7-6 (4), 6-1 to the eventual flight champion Jonathan Roger from Coe. Miller rebounded with a 6-2, 6-3 win over Seth Hendrickson from Rose-Hulman in the finals.
Wabash scored a total of 52 points to finish in third place, edging Carthage College by a point. Coe's Crimson team won the title with 59 points.
Game Stats