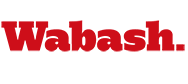 McCarthy Hits Steeplechase Qualifier
by Brent Harris

March 27, 2011

Competing in the steeplechase for just the second time in his career, Wabash All-American Kevin McCarthy won the event at Saturday's Rhodes College Track and Field Invitational. His time of 9:21.06 was nearly three seconds faster than the NCAA provisional qualifying time for nationals.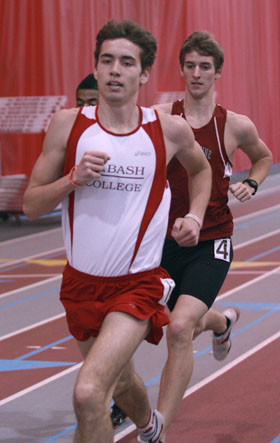 McCarthy (right) was one of several Little Giants to produce top results at the meet in Memphis, Tennessee. Senior Seth Einterz won the 5,000-meter run with a time of 15:03.97. John Haley added a first-place finish in the 400-meter dash, crossing the finish line in 49.61 in the only sub-50 second time out of 26 competitors in the event. Charles Smothers posted the fastest time in the 100-meter dash, winning in 11.25. Vann Hunt was ninth out of 35 total runners in the 100.
Jake Waterman, a two-time indoor track and field All-American, won the 800-meter run by more than two seconds. The sophomore finished the race in 1:54.65.
The 400-meter relay team of Austin Hodges, Sean Hildebrand, Hunt, and Smothers finished second with a time of 43.50.
The remainder of the Wabash track and field squad competed at the Cedarville University Yellow Jacket Outdoor Open Saturday afternoon. Daniel Ambrosio captured first place at that meet in the javelin throw with a mark of 53.60 meters (175 feet, 10 inches). Trevor Young added a second place finish in the pole vault, clearing 4.55 meters (14 feet, 11 inches) to help the Little Giants finish third in the final team standings.
Billy Rosson finished third in the 400-meter hurdles at the meet, crossing the finish line in 58.05. Matt Scheller finished fourth in the shot put with a mark of 13.65 meters (44 feet, 9.50 inches). John Bogucki took fourth in the 110-meter hurdles with a time of 16.35 seconds. Patrick Posthauer was sixth overall (16.82).
Donavan White finished fourth in the 5,000-meter run with a time of 15:51.18. Alex Moseman was fifth in the hammer throw by posting a distance of 44.76 meters (146 feet, 10 inches). Scheller finished in sixth place (43.70 meters; 143 feet, 4 inches). Devin Kelley took fifth place in discus (40.38 meters; 132 feet, 6 inches), with teammate Joel Beier finishing sixth (38.50 meters; 126 feet, 4 inches).
Wabash scored a total of 76 points at the meet. Cedarville won with a total of 203.33 points, followed by Heidleberg with 90 points.
Rhodes Invitational Results (pdf)
Cedarville Yellow Jacket Open Results