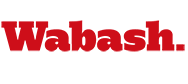 Record-Setting Night for All-American Duo
by Brent Harris

March 25, 2011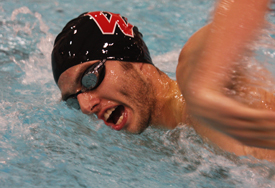 Wabash swimmers Evan Rhinesmith and David Birrer earned All-America honors Friday at the 2011 NCAA Division III Swimming and Diving Championships in Knoxville, Tennessee. Birrer also set a new school record in the 200-yard butterfly with his championship effort.
Both Rhinesmith (left) and Birrer posted 13th-place finishes in their respective events. Rhinesmith received Honorable Mention All-America honors in the 100-yard breaststroke, while Birrer claimed an Honorable Mention All-America award in the 200 fly.
Rhinesmith qualified for the consolation finals while breaking his own school record in the 100 breaststroke in the morning trials. His time of 56.77 earned him a place in the evening competition, where he trimmed another 3/100th of a second off his time, finishing in 56.74.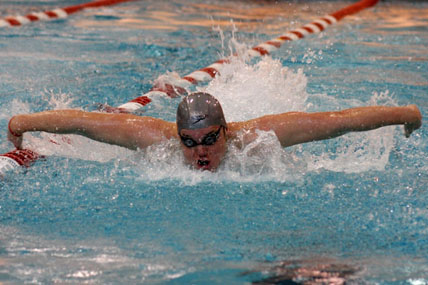 Birrer broke the old Wabash record in the 200 fly of 1:50.97 set by Adam Petro at the 2008 NCAA Nationals. Birrer qualified for finals with a time of 1:50.93 in the morning session. He tied for 13th place with Benjam Redpath from Emory with a time of 1:51.22 in the consolation finals Friday evening.
"I'm very proud of the accomplishments David and Evan had today," Head Coach Steve Barnes said. "Evan had a tremendous swim and David has been looking forward to breaking the school record in the 200 fly. That's a wonderful way to cap a career. Now Evan can do the same with a chance to break the school mark in the 200 breaststroke on Saturday."
Birrer and Rhinesmith are the first Wabash swimmers to earn All-America honors since Tony Caldwell and Petro accomplished the feat at the 2007 NCAA Nationals.
Wabash is in 39th place in the team standings with a total of 7-1/2 points. The meet concludes on Saturday.
Game Stats