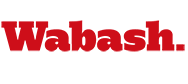 Little Giant's Late Rally Not Enough against Purdue
by Brent Harris

March 23, 2011

The Little Giants scored three runs in the eighth inning, but were unable to overcome a fast start for Purdue Wednesday afternoon in West Lafayette, Indiana. The Division I Boilermakers handed Wabash a 9-3 defeat.

View photos from the Little Giants' game here.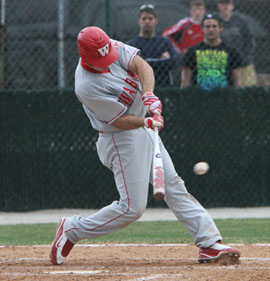 John Pennington ripped a two-out single to score David Seibel in the top of the eighth with the first run for the Little Giants. John Holm brought Pennington and Casey Shipley home one batter later with a two-run double. Wabash would mount a mild threat in the ninth when Chris Deig and Seibel both singled, but the Little Giants were unable to capitalize.

Wabash picked up its first hit of the game in the fifth inning on a PJ Tyson (left) single. Seibel and Pennington each finished with two of the Little Giants' nine hits in the game.

Purdue scored six runs in the second inning before adding an addition run in the third and two more in the fourth.

Freshman Nate Adams took the loss. He worked two innings, allowing nine hits and six runs with a walk and strikeout. Brian Van Duyn threw two innings, with four hits and three earned runs to go with two walks and three strikeouts. Andrew Swart allowed one hit in two innings while striking out four Boilermakers. Chris Widup allowed only one walk to face four total batters in one inning on the mound. Luke Zinsmaster closed out the final inning of relief, striking out two of the three batters he faced.

Wabash (7-12) opens North Coast Athletic Conference play on Saturday at Wabash Ballpark with two seven-inning games against the College of Wooster, beginning at 1 p.m. The Little Giants play NCAC foe Wittenberg on Sunday at home at 1 p.m.




Results: Purdue 9, Wabash 3 Game Stats