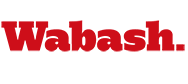 Rhoads Set For All-America Round
by Brent Harris

March 11, 2011

Junior Greg Rhoads rallied from a first-round loss at the 2011 NCAA Division III Wrestling Championship Tournament to score two victories in the consolation bracket. Rhoads is guaranteed to finish no worse than eighth place, which guarantees him All-American honors at 184 pounds.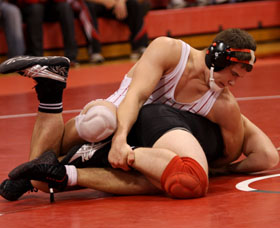 Rhoads wrestled Ben Engelland from Wisconsin-Stevens Point in the first round, who entered the match with a 22-1 overall record. Rhoads trailed 2-1 after the first period before Engelland scored an escape and a takedown in period two for a 5-1 lead. A takedown for Rhoads early in the third period closed the gap to 5-3, but Engelland managed to escape and add an extra point for riding time to take the four-point victory.
Falling to the consolation bracket, Rhoads came battling back with a first-round pin against Mitch Artist from Wisconsin-La Crosse, the host school for this year's tournament. That put Rhoads into the consolation third round to face fifth-seeded Dylan Azinger from Wartburg College.
Rhoads jumped out to an early lead in the match, scoring the first takedown and two near-fall points in the opening period. He added a reversal after Azinger escaped and scored a takedown to take a 6-3 lead after the first three minutes. Rhoads started the second period on the bottom, but managed an escape to move in front 7-3. A takedown for the Wabash junior in the third period put Rhoads up 9-3. Azinger got the final escape, but Rhoads added a point for riding time to win 10-4, improving to 40-15 for the year.
Rhoads will face another seeded wrestler in the opening match on Saturday at La Crosse. Eighth-seeded Dustin Baxter from St. Johns scored a in the opening round. Baxter scored an 8-3 in in the opening round of the 184-pound weight class, but lost 12-4 in the second round to top-seeded Phil Moenkedick from Concordia Moorehead. Baxter is 21-8 on the season.
NCAA Division III Wrestling Brackets (pdf)