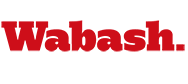 Rhoads Punches Ticket To Nationals
by Matt Wilson
Crawfordsville Journal Review

March 10, 2011

Wabash junior 184-pound wrestler Greg Rhoads came into this season with a sour taste in his mouth.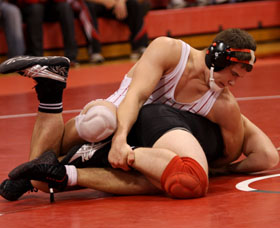 Rhoads came into last year's regional tournament as the top seed at 174 pounds, and had dreams of advancing to his first national tournament. Those dreams ended when he was upset by Trine's Ryan Pieper by a 6-4 decision in the semifinals.
That loss dropped Rhoads to the consolation bracket, where he eventually finished fourth.
Rhoads entered this year's Midwest Regional at Wabash as the favorite to win the 184-pound class. The Hillsboro, Ohio native wasn't going to be denied this season. Rhoads gained an automatic berth into the national tournament after posting a 7-3 victory over No. 2 seed James Neal from Olivet.
"I was obviously very ecstatic and excited after I won my match," Rhoads said. "I had a sour taste in my mouth after last year, and that made me more motivated to punch my ticket to nationals this year."
Rhoads left Wednesday for this weekend's national tournament at the La Crosse Center in La Crosse, Wisc. Nationals begin Friday and continue Saturday.
Rhoads (38-14) faces No. 2 seed Ben Engelland from Wisconsin Stevens Point in his opening match of the 16-person bracket on Friday morning. Engelland is 22-1 on the season. Friday will be Rhoads' first time wrestling Engelland. Rhoads and Engelland both were in the Concordia open on Nov. 20, but went in opposite directions in the bracket.
Rhoads is unsure what to expect with his first match.
"How he wrestles doesn't really affect me," Rhoads said. "I just have to go out and wrestle my match and take care of what I can take care of. I don't really care how he wrestles."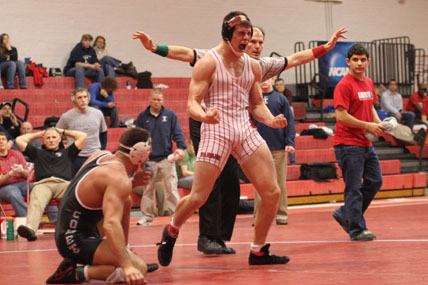 Rhoads has been working with head coach Brian Anderson, assistant coach Danny Irwin, and 165-pounder Jake Moore. Moore, a graduate of Southmont, took second at the regional tournament and will be one of three alternates at nationals.

"We have just been working on staying physical and on our feet," Rhoads said. "We want to hold nothing back."

Rhoads' quest for his first national-tournament appearance started when he pinned Manchester's Chad Ulmer in the opening round of the regional tournament on Feb. 26. Rhoads then defeated Trine's Jason Alber by a 5-1 decision in the semifinals before beating Neal in the championship.

"I'm sure I will be nervous, but everybody had to qualify for nationals, so to me it's a 16-person bracket and everybody is on an even playing field," Rhoads said. "This is just like any other tournament."

Rhoads said his record this season is comparable to the last two years, but he has placed higher in bigger tournaments. One of those tournaments was the Pete Willson-Wheaton College Invitational on Jan. 29.

Rhoads was seeded eighth in his weight class, but had a perfect weekend to win the title. He defeated No. 3 seed Justin Marble by a 3-2 decision in the championship match. He advanced to the championship bracket by beating top-seed Joe Rau from Elmhurst. Rhodes defeated Rau 6-4 in overtime.

Rhoads isn't just satisfied with making the national meet. He has a goal of finishing in the top eight and becoming an All-American. Rhoads would have to win his first two matches to accomplish that feat.

"I really worked hard during the last offseason because I still had that sour taste in my mouth," Rhoads said. "Now I want to be an All-American this year, and then work even harder during the offseason and be a national champion next year. That is what drives me."




For more information see: