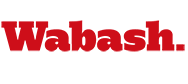 Rebounding Sends Wabash to NCAC Semis
by Brent Harris

February 22, 2011

Wabash outrebounded Kenyon 45-32 --- including a career-high 12 boards from Nick Curosh and a double-double from Wes Smith with 11 boards --- in a 72-61 victory in the first round of the North Coast Athletic Conference Men's Basketball Tournament Tuesday evening. The victory may be the last home game for senior players and the final contest at Chadwick Court in Head Coach Mac Petty's 35-year career.

View photos from the game here, here, and here.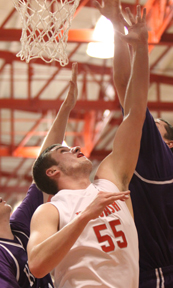 The Little Giants dominated the glass, producing 18 second chance points. Curosh (left) grabbed seven of his 12 rebounds on the offensive end of the floor, while Smith had four offensive boards. The Little Giants finished with 18 offensive rebounds overall.
"That's my role on the team," Curosh said. "I come out every day to play defense and be ready to rebound."
"We talked a lot about rebounding before the game," Petty said. "There are three things in the game --- ball possession, free throws, and rebounding. The rebounding is the offensive end. You've got to beat them on the offensive boards, get to the line and make free throws, and take care of the basketball. We only had 11 turnovers tonight and that's pretty good."
The Wabash bench chipped in with 22 points, led by sophomore Jordan Surenkamp's 15 points. Smith finished with a team-high 19 points, with most coming from the free throw line. The senior guard his just 3-of-12 shots from the field, but connected on 13-of-17 free throws. Smith went 6-for-6 from the line in the final minute when Kenyon tried to draw even with 3-point shots and quick fouls to stop the clock. His double-double was the 16th of his career.
"Jordan has no fear," Petty said. "He showed that again tonight with 15 points. He adds an element we didn't have earlier which helps us a great deal. He takes pressure off of Wes."
"I just had a bad game," Smith said. "Maybe I came out too excited and tried to do a little too much in the beginning. But I trust my teammates. That's what this part of the season comes down to. We've had games in the past where someone has stepped up. I believe in my teammates that we can get the job done."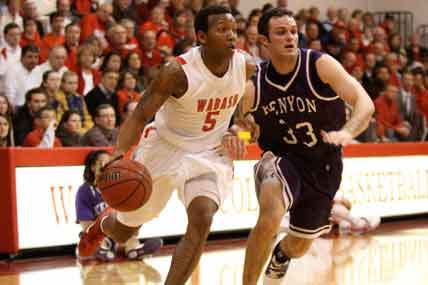 Kodey Haddox was a one-man shooting machine for the Lords, hitting 11-of-24 shots and 6-of-11 from beyond the arc to finish with a game-high 32 points. He scored eight points in the final three minutes to cut a 14-point Wabash lead to seven with only 38 seconds left to play. Smith's free throws put the game away for Wabash, giving the Little Giants a 20-win season for the first time since the 1999-2000 team finished 20-7.

Wabash enjoyed as much as an 18-point lead midway through the second half. Surenkamp nailed a trey and was fouled, completing the four-point play to give the Little Giants the 53-35 edge. Smith hit a pair of free throws and Aaron Zinnerman (above left) nailed a trey to keep the lead at 17 before Haddox begin shooting the Lords back into the game.

Zinnerman finished with 10 points, while Brian Shelbourne added 10 points and six assists, giving the Little Giants four double-figure scorers for

John Beaulieu added 11 points for the sixth-seeded Kenyon team, which finished the season with a record of 9-16.

Wabash travels to Wooster, Ohio for the semifinal round of games on Friday evening. The Little Giants will play second-seed Wittenberg, a 77-63 winner over Denison in first round action. Tipoff at Timken Gymnasium is set for 6 p.m.

"We won't change our approach against Wittenberg," Petty said. "It's been less than a week since we played them here. We'll come in Wednesday and review what we did against them the last time in our preparation."




Results: Wabash 72, Kenyon 61 Game Stats