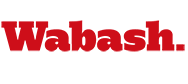 Rhinesmith Sets New School Mark in 200 IM
by Brent Harris

February 11, 2011

Evan Rhinesmith was close to breaking the Wabash record in the 200 individual medley in the preliminary round of the 2011 North Coast Athletic Conference Swimming and Diving Championships. Thursday evening he easily topped the 12-year-old mark in the finals.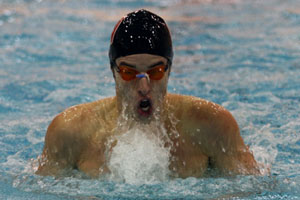 Rhinesmith (left) touched the wall in 1:55.17, easily faster than the old mark of 1:55.77 set by RJ Morgan at the 1999 Liberal Arts Invitational. The Wabash senior finished 10th in the final standings.
Rhinesmith was joined by Eric Vaughn, Adam Current, and Charles Williams in the Little Giants' first All-Conference performance of the meet. The Wabash quartet finished third in the 400-yard medley relay with a time of 3:29.19 to help the team to sixth place in the overall standings after one day of competition.
Sophomore diver Jake Schild added to the Wabash team score by finishing seventh in men's three-meter diving with a total score of 346.65. Jake Anderson added an 11th-place finish with a score of 249.45.
David Phillips placed 11th in the 500-yard freestyle with a time of 4:43.41. Adam Barnes was 22nd (4:57.94). Williams scored for the Little Giants with a 14th-place finish in the 50 free, touching the wall in 21.91. Jake Pahud finished 19th (22.15), while David Birrer was 21st (22.24), and Alex Beck finished 23rd (22.61).
Denison leads the team standings with 516 points. Kenyon is second (370), followed by Wittenberg (176), Allegheny (170), Wooster (168) and Wabash (152). Oberlin (149), Ohio Wesleyan (64) and Hiram (64) round out the team scoring.
The three-day meet continues Friday at the CT Branin Natatorium
Game Stats