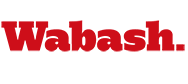 Wabash Finishes Fourth at Tiger Invite
by Brent Harris

February 6, 2011

The Wabash College indoor track and field team posted nine top-five finishes, including two individual titles, at Saturday evening's Tiger Invitational hosted by DePauw University. The Little Giants were second among Division III teams competing at the event.

View photos from the meet, taken by senior Alex Moseman, here.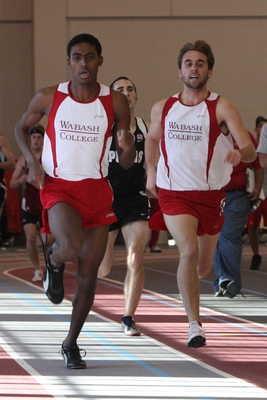 Donavan White (left in photo on the left) won the one-mile run with a time of 4:24.36. He came back to take fourth place in the 800-meter run, finishing in 1:58.25. Kevin McCarthy won the 800, crossing the finish line in 1:55.46. Fellow All-American Jake Waterman took second place in the 800 with a time of 1:56.43.
Justin Allen also competed in the mile with White, finishing fourth with a time of 4:26.49. John Haley grabbed fourth place in the 400-meter dash with a time of 51.49.
Patrick Posthauer finished fifth in the finals of the 55-meter hurdles with a time of 8.02, matching his preliminary heat qualifying time. Sean Hildebrand added a fifth place finish in the 200-meter dash (23.40). Matt Scheller took fifth in the shot put with a top mark of 13.86 meters (45 feet, 5-3/4 inches).
Wabash finished with 69 points. Vincennes University won the meet with 144 points, while Indiana State University was second (138.5). Rose-Hulman was the top DIII school at the meet with 85 points. Bethel (48), Marian (44), Campbellsville (36.5), Franklin (32), Centre (16), Brescia (13), Wittenberg (8), and DePauw (7) completed the team scoring.
The Little Giants return to action Friday night at Indiana University.
Game Stats