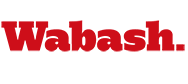 Alumni Honor Professor's Legacy
January 18, 2011

Twenty of the 31 alumni artists whose work is featured in the Art Department's Alumni Invitational Exhibition returned to campus Friday night. It was the ideal gathering for President White's announcement of the Gregory J. Huebner Gallery, a tribute to the professor who has guided students for 37 years.

President White and Art Professor Doug Calisch greeted the large crowd in attendance for the opening reception of the Alumni Invitational. After both paid tribute to Professor Huebner, President White announced that the permanent collection gallery would be renamed in honor of Huebner.

Professor Huebner will retire as Professor of Art at Wabash at the end of this year, but his legacy as an artist, teacher, mentor, and friend will endure for generations. That legacy is lived out in the lives of the alumni whose art is exhibited in the Alumni Invitational — alumni whose careers bring great joy and pride to their former professor.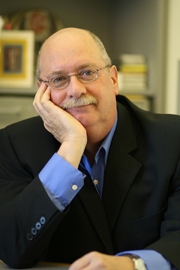 "The idea for the show began as I pondered my retirement and thought about all the art students I have been so fortunate to work with over my years here at Wabash," said Huebner. "As I began to develop a list of those who completed advanced degrees and have made their careers in the arts I began to think how cool it would be to see their current art."
Huebner asked his colleagues if they would be agreeable to the idea. They were, and on Friday, 31 alumni artists — who were art majors or minors at Wabash — will display their work.
"This show will celebrate the work of our past majors and minors who have made their profession in painting, sculpture, film, photography, installation art, performance art, architecture, advertising, graphic arts and web design."
"This exhibition, personally rewarding on the inside, and visually diverse on the outside, promises to be an exciting venue for our Wabash community," said Art Professor Doug Calisch. Thirty-one artists, designers, photographers, architects, teachers, inventors, and film makers, with the shared experience of coming through our Wabash art department are exhibiting together for the first time.
Alumni who will be exhibiting in the Invitational include Shay Atkinson '05, John Bacone '01, Nic Bitting '07, Michael Breclaw '80, Michael Bricker '04, Mark Brosmer '85, Tyler Lennox Bush '99, Hipólito Rafael Chacón '85, Nathan Clark '03, Christopher Colson '88, Matthew Deleget '94, Phillip Dewey '89, Jeff Fulmer '97, Daniel Gillespie '08, Scott Hofer '91, Tony Hudson '96, Harrison Jones '78, Denis Ryan Kelly '84, Kaizaad Kotwal '91, Ryan Lane '85, Clayton Osborne '02, Ben Prickel '02, Nathaniel Quinn '00, Philip Ramilo '07, Nick Roudebush '09, Eric Rowland '86, Chris Rozzi '90, Joe Trumpey '88, James Urbaska '82, Billy Whited '06, and Roscoe Wilson '97.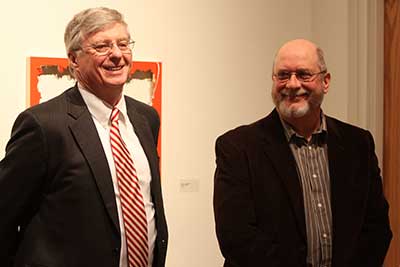 "It's been a great pre-exhibit week," added Calisch. "Alums have been stopping by to chat while dropping off work or emailing about the safe delivery of sent works, and that has allowed me to reconnect with so many of our most creative students. Knowing that they are out there in the world—teaching, building, creating, filming—is very satisfying."
Huebner has the same warm feelings about his former students this week.
"Although I could not chase down all of our alumni in art, I believe I have contacted 90% of them and it has been a joy reconnecting with them once again," added Huebner.
The exhibit includes art ranging from painting, art history publications, and ceramics to fashion design, violin making, and even tattoo art.
The gallery is open Monday through Friday from 9:00 a.m. to 5:00 p.m. and on Saturday from 10:00 a.m. to 2:00 p.m.