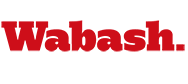 Wabash Cruises to 11-0
by Brent Harris

December 19, 2010

The Little Giant basketball team broke open an early close game against Allegheny, stretching a 20-point halftime lead to an 89-56 victory in North Coast Athletic Conference play at home Sunday afternoon.

Wabash, ranked ninth in the latest D3hoops.com poll, entered the contest as the top-ranked scoring defense in the country. The Little Giants lived up to their ranking, holding Allegheny 15 points below its scoring average for the season.

View photos from the Wabash victory here, here, and here.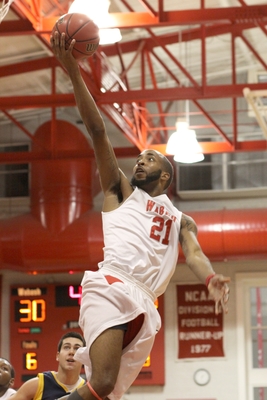 The Gators held an early five-point lead before Wabash jumped into its familiar 1-3-1 zone defense. The Little Giants held Allegheny to three points over the next eight minutes while outscoring the Gators 18-3. A 16-4 run by the Little Giants to close out the final six minutes of the first half followed by an 18-8 run to start the second put the game out of reach.
Wes Smith (right) scored 20 points to pace Wabash. Freshman Pete Nicksic (below left) recorded his first career double-double with 13 points and 11 rebounds, including seven offensive boards. The Little Giants' balance proved to be too much for Allegheny. Nick Curosh added nine points, while Aaron Zinnerman, Brian Shelbourne, and Derek Bailey each finished with eight. Ben Burkett tossed in seven points. Shelbourne also dished out seven assists in the victory.
Wabash owned the glass, outrebounding the Gators 50-31. The Little Giants scored 20 second-chance points on 16 offensive boards compared to five on nine offensive rebounds for Allegheny.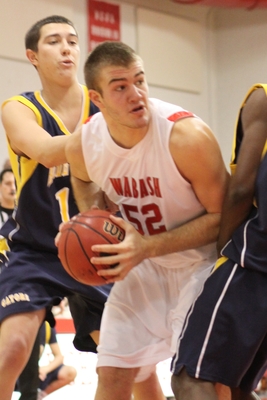 The Gators had five players averaging double figures in scoring coming into the contest. Junior James Ness finished with 11 points overall, but was held scoreless in the second half after getting in early foul trouble. Clark Tritto came off the bench late in the game to add eight points.

The Little Giant return to action on Wednesday, December 29 with a 7:30 p.m. contest at Franklin College.




Results: Wabash 89, Allegheny 56 Game Stats