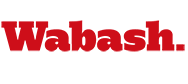 Chicago Holiday Luncheon Draws Biggest Crowd Ever
by Tom Runge

December 15, 2010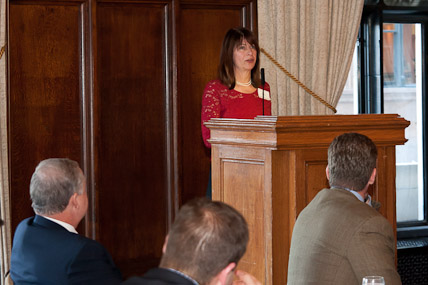 The 2010 edition of the Annual Wabash Club of Chicago Holiday Luncheon was the biggest, and arguably best, in the ten years of the event. Almost 80 people attended the event.
Eric Schoettle '93 served as the emcee for the luncheon. Eric thanked the group for attending and reminded the crowd of several upcoming events in the Chicago area.
Dean for Advancement Joe Emmick '92 introduced the short program noting that the College's Challenge of Excellence was the critical factor in keeping Wabash strong and growing stronger.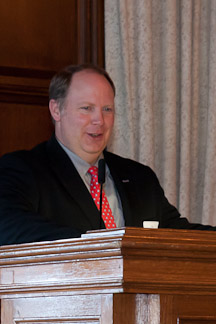 Professors Kay Widdows (Economics) and Dan Rogers (Spanish) drew the crowd. Kay and Dan, guests of the Wabash Club of Chicago, spoke of the opportunities available to Wabash students today in the areas of Business and off-campus studies.
Kay talked of the recent additions of Business experiences, noting the combination of co-curricular opportunities and the steady increase in internships and externships. When these are added to an already stout curriculum, our students are better prepared than ever before to become business leaders.
Dan talked of his experiences on immersion trips – the icing on the cake for many of our courses. Dan likened the immersion trips to the labs that our science majors have - the chance of a lifetime to see how other peoples and cultures tackle the problems of the world. Dan pointed out several students at the luncheon who had been on immersion trips with him and everyone agreed the educational component of the trips was immense.
President Pat White summed up the Challenge of Excellence as the latest step in a history of keeping Wabash at the forefront of liberal arts colleges. Pat also recapped the great fall the college is having. He might have even mention the Monon Bell game a couple of times!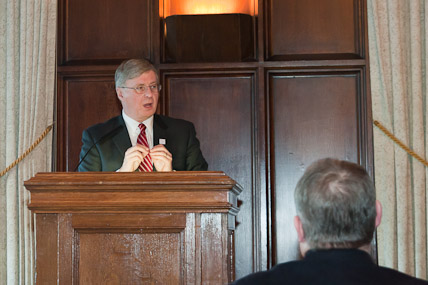 Photos:
Top: Professor Kay Widdows talks of the new expanded business education opportunities
Middle: Professor Dan Rogers explains the impact of immersion trips on our students
Bottom: President White explains the importance of the College's Challenge of Excellence.
For more photos, click here: