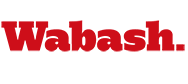 Wabash Drops DePauw 57-40
by Brent Harris

December 1, 2010

Wabash improved to 7-0 while winning in Greencastle for the first time since 1998 with a 57-40 defensive gem against DePauw. For photos of the game, click here and here. For some "extras", click here.

The last time a Wabash squad left Neal Fieldhouse with a victory was November 30, 1998 — almost 12 years to the day. The Little Giants scored a hard-fought 87-81 win that season. Wabash has opened the season with a seven-game victory stretch for the first time since the 1916-17 team won seven straight games on the way to a 19-2 season.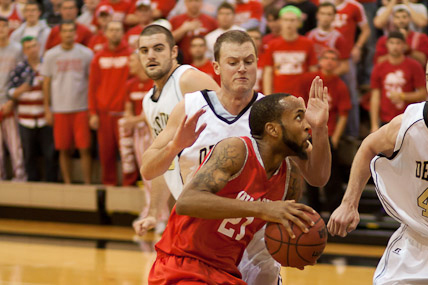 The win not only kept Wabash, ranked 13th in the latest D3hoops.com poll, undefeated on the season but also handed the Tigers their first loss of the 2010-11 campaign.
"I'm proud of our players, and I'm very happy for our seniors," Wabash Head Coach Mac Petty said. "It's always big for seniors to win against DePauw, and for this group to win here at DePauw is really special. Our leadership on this team is outstanding, and the will of every player on this team is outstanding too.
"This team got the recognition by being ranked and they're responding to it and doing what they need to do to be deserving of that type of compliment."
The Little Giants held DePauw to 15 first half points and an 0-for-15 performance from beyond three-point range. The Tigers would hit one trey in the first five minutes of the second half before missing their next 10 long-range shots. Wabash's stifling defense held DePauw to 16-of-55 shooting for 29 percent from the field and 4-of-30 from three point range (13.3 percent). The Tigers shooting woes even carried over to the free throw line where DePauw hit just four out of 12 attempts for woeful 33 percent. The Tigers hit just one of seven free throws in the final period.
"We worked really hard on our defensive plan against DePauw on Monday and Tuesday," Petty said. "Our players are really focused and their understanding of what we want to try and do against teams is excellent. Our 1-3-1 really kept DePauw off balance all night."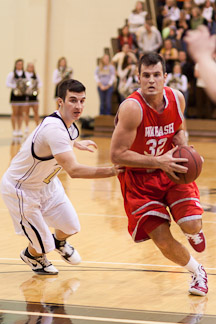 DePauw held an early 6-4 lead before Derek Bailey sparked a 5-0 run for Wabash with a layup that tied the game. Wes Smith scored on the next offensive possession for the Little Giants, giving the team the lead it would never relinquish. The Tigers kept the score close until midway through the first half when Wabash exploded for a 19-5 scoring advantage. Bailey, AJ Sutherlin, and Aaron Zinnerman each drilled three-point shots during that stretch, while Smith accounted for four of the 19 points to give Wabash a 31-15 halftime lead.
"It's so important to get good production from all of our player," Petty said. "Tonight Derek and AJ did exactly what we know they can do. It's one of the reasons we have so much depth this season. Whe you play nine or ten guys like we do this year, teams have to guard a lot of different players. Tonight DePauw couldn't guard everything we threw at them."
The Tigers were sharp in the opening minutes of the second half, starting with a 7-0 run to cut the lead to nine points. DePauw would get as close as three points before the Little Giants took over once again. Back-to-back scores by Dominique Thomas — a layup and a three-pointer — stretched the lead to eight points. Smith added two free throws before DePauw got its only free throw of the half to make it a 40-31 ball game. Bailey responded with another three, his third of the game, to put the Little Giants up 12.
"We saw the same thing at Hanover earlier this year," Petty said. "Hanover made a good run just like DePauw did tonight, but in both games we kept the lead and found ways to make baskets and take the advantage once again."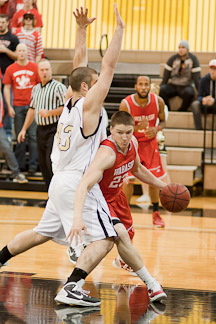 Bailey's shot started an 11-0 run for Wabash that put the Little Giants up by 20 with three minutes to play, securing the victory.

Wabash dominated nearly every statistical category, shooting 19-of-48 for 39 percent from the field. The Little Giants were 8-of-19 from beyond the arc, and a perfect 11-of-11 from the free throw stripe.

Smith led the Little Giants with 21 points. , while Bailey chipped in 11. Sutherlin scored nine points in the victory.

Sean Haseley and Michael Wilkison each scored 10 points for DePauw.

Wabash will begin North Coast Athletic Conference play on Saturday with a 1 p.m. contest at Hiram College.

Photos - (top left) Wes Smith scored 21 points to lead all scorers in Wabash's 17-point win at DePauw.

(Middle right) Junior AJ Sutherlin hit three key three-pointers to help Wabash to its seventh straight win of the season.

(Bottom left) Senior Ben Burkett played great interior defense to help the Little Giants shut down DePauw on offense.

Photos by Tom Runge.




Results: Wabash 57, DePauw 40 Game Stats