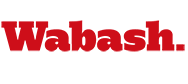 Trio Earns 2010 NCAC Soccer Honors
by Brent Harris

November 18, 2010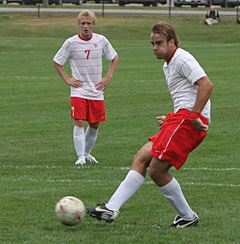 Senior Mark Babcock received All-North Coast Athletic Conference men's soccer honors for the fourth time in his career. Babcock was joined by junior Femi Oluyedun and sophomore Ryan Fier on the all-conference team this season.
Babcock (right) earned Second Team All-NCAC honors after playing in 15 game for the Little Giants in 2010. He finished the season with two goals and two assists for a total of six points. Babcock was named to the Honorable Mention 2007 All-NCAC team, followed by Second Team All-NCAC selections in 2008 and 2009. He leaves the Wabash program as the all-time leader in penalty kick scoring with six goals in seven attempts. He ranks 16th in all-time goals with 11 and set the Wabash school record for penalty kick goals with four in 2009.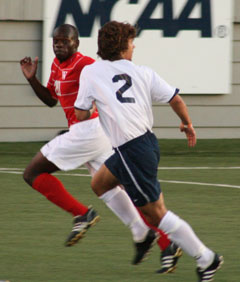 Oluyedun (left) was named to the All-NCAC Honorable Mention team after leading the Little Giants in scoring in 2010. He tallied five total goals along with two assists for a total of 12 points. Oluyedun tied for ninth in the NCAC in total goals and ranked ninth in goals per game (0.33) and 10th in points per game (0.80). He scored three of Wabash's eight game-winning goals on the season. Olueydun earned Second Team All-NCAC honors in 2009.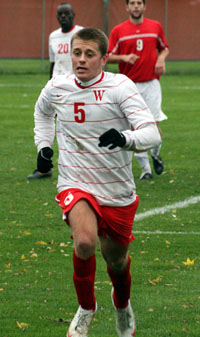 Fier (right) was an All-NCAC Honorable Mention selection for the second consecutive season. The midfielder was second on the team in scoring with four goals and two assists for 10 total points. He scored four goals in just 11 total shots on goal while playing in 17 total games for the Little Giants. Fier scored a game-winning goal in the Little Giants' 2-0 shutout victory at Wittenberg.




For more information see: