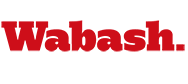 Ten Join Wabash Athletics Hall of Fame
by Jim Amidon

November 11, 2010

The National Association of Wabash Men, the College's alumni body, inducted ten new members into its Athletics Hall of Fame at a ceremony Friday night, November 12.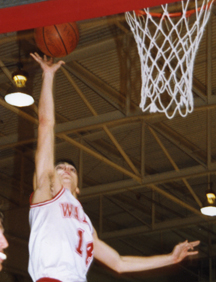 The inductees range from a bruising runner from Wabash's undefeated football team (7-0-1), which is often referred to as the College's all-time best team, to a baby-faced, sharp-shooting basketball guard who became Wabash's all-time leading scorer
(Josh Estelle, left)
.
The Wabash College Athletics Hall of Fame was established in 1982. Today, classes of six-to-ten inductees are enshrined every other year on the Friday night before the Monon Bell Classic.
This year's inductees include:
Norm Buktenica '52
Football and Baseball
A native of Chicago, Buktenica was a three-year football letterman who starred at fullback and linebacker on the 1951 Wabash team that went 7-0-1, averaged 36 points per game, and held five of eight opponents to a touchdown or less. Buktenica was named the football team's MVP, and he also captained and won MVP honors during the 1952 baseball season.
Allan Anderson '65
Football
A native of Chapin, Illinois, Anderson earned three letters in both track and football. He was a two-way player (running back and defensive back) in Wabash's vaunted single wing attack. In 1964, he was named the football team's Most Valuable Player after leading the team in rushing and scoring. He scored touchdowns that helped Wabash beat Ohio Wesleyan for the first time in six years and secure a 7-7 tie with Butler. He scored 20 of Wabash's 21 points in the 1964 Monon Bell Classic vs. DePauw. He received the Frank Hugh Sparks Award for all-around student achievement.
Don Race '67
Track and Cross Country
A native of Pittsburgh, Race attended Wabash at the height of Coach J. Owen Huntsman's coaching career. He earned four varsity letters in track and cross country and was named the cross country team's Most Valuable Runner three times. He helped the Wabash track team to 22 straight dual meet victories and in 1967 he won the Indiana intercollegiate title in the two-mile run with a time of 9:19.3, which set Little State and Wabash records. He received the Pete Vaughan Award as the College's most outstanding athlete.
Jake Sedmak '68
Wrestling, Track, and Cross Country
A native of Canonsbug, Pennsylvania, Sedmak was one of the most versatile and accomplished athletes of his era, earning seven varsity letters in cross country, track, and wrestling. He was the Little State runner up in the steeplechase, and was a key part of Coach J. Owen Huntsman's dominant distance running programs. As a wrestler, he was a three-year letterman who finished his career with a 46-10 dual meet record. During the 1966 season, he won 13 straight matches and the Little State Championship en route to qualifying for the national championships and earned the team's Most Valuable Wrestler Award. As a senior, he served as co-captain, earned his second Most Valuable Wrestler Award, and led the team in pins. He received the 1967 Pete Vaughan Award as the College's most outstanding athlete.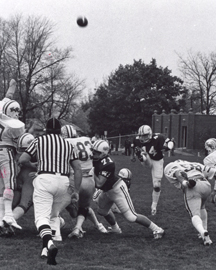 Joe Bevelhimer '86
Football
A native of Logansport, Indiana, Bevelhimer was a four-year starter on the Wabash football team and remains the College's most decorated place kicker of all-time. He kicked six field goals and 32 PATs on the undefeated team of 1982. He would go on to score 219 points, which ranks fifth all-time (only running backs and receivers rank ahead of him). He set Wabash records for 219 kick scoring points, 34 career field goals, five field goals in one game, 16 kick-scoring points in one game, and 117 career conversion kicks. His 49- and 50-yard field goals in the 1985 Monon Bell Classic were both record-breakers. His 14 field goals in 1985 ranked second in Division III football.
Bill Ahrbecker '88
Wrestling
A native of Indianapolis, Ahrbecker was one of the most decorated student-athletes of all-time. He graduated summa cum laude with a 3.87 grade point average and was inducted in Phi Beta Kappa. As a wrestler, he was 58-20 in dual matches and he captured three Little State championships at 190 pounds. As a senior, he was 29-6, won titles at Little State, the Wittenberg Invitational, and the NCAA Midwest Regional to both qualify for nationals and earn Wabash's Most Valuable Wrestler Award. He was captain of the team that posted a 20-1-1 record, and he was named a Scholar-Athlete by the National Wrestling Coaches Association.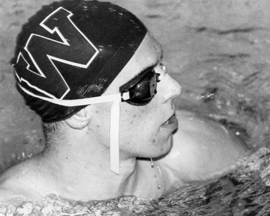 Jason Cain '93
Swimming
A native of Portage, Indiana, Cain was a highly decorated swimmer who was part of teams that posted a 37-0 dual meet record and won 16 major invitational titles during his career. Individually, he was a four-year letterman, two-time captain, and helped Wabash to four straight top-20 finishes at the national championships. As a senior, he was the high point swimmer at the Liberal Arts Invitational; won Most Valuable Swimmer honors for Wabash and the Indiana Collegiate Atheltic Conference; and captained the team that placed eighth at the NCAAs. By graduation, he was a five-time All-American, seven-time Honorable Mention All-American, and was a three-time Scholar All-American. He helped break 19 school records, five of which still stand.
Michael Clump '97
Soccer
A native of Springfield, Illinois, Clump was the most accomplished soccer player of his era. He was a four-year starter, four-year First Team All-Indiana Collegiate Athletic Conference selection, and twice was named to the All-Mideast Team. He set Wabash and ICAC records with six goals and 12 points in a win over Rose-Hulman. Over the course of his career, he scored 53 goals with 17 assists and 123 points, which ranks second all-time at Wabash. As a senior, he captained the team to a 12-3 record to earn his third straight Wabash Most Valuable Player Award, and he earned MVP honors from the ICAC. He graduated magna cum laude and was inducted in Phi Beta Kappa.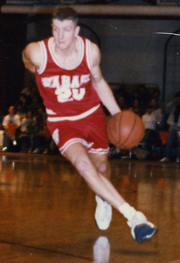 Chad Tabor '99
Basketball
A native of New Castle, Indiana, Tabor was a four-year starter for Wabash basketball teams that posted a combined record of 63-19, won two Indiana Collegiate Athletic Conference championships, and twice advanced into the second round of the NCAA Division III Tournament. Tabor was a three-time Wabash Most Valuable Player and scored 1,888 points with 536 rebounds, 127 steals, and 88 blocked shots in his career. He ranks in the top ten in 17 all-time statistical categories in Wabash history, and holds records for most free throws (535) and starts (103 in a row). In 1997, Tabor was named a Second Team NABC All-American, and in 1999 he was named the ICAC's Most Valuable Player after leading Wabash to its second straight league championship.
Josh Estelle '00
Basketball
A native of New Castle, Estelle shot his way into Wabash history by knocking off Pete Metzelaars' all-time scoring record. A four-year letterman, Estelle helped Wabash to its best-ever four-year record (83 wins, 26 losses) and set Wabash's all-time scoring record with 2,065 points. He was a four-year, First Team All-Conference selection in three different leagues. He was a two-time team captain who earned D3Basketball.com All-America and GTE-CoSIDA Academic All-America honors. As a senior, he averaged 25 points per game to rank third in the country, earn Most Valuable Player honors from Wabash and the North Coast Athletic Conference, and he set a Wabash record with 105 three-pointers. He was inducted in the Montgomery County Basketball Hall of Fame in 2007.