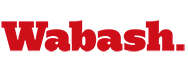 Wabash Travels to Witt with League Title, Playoffs on Line
November 5, 2010

It's old news in the NCAC - Wabash (7-1) and Wittenberg (8-0) will battle for a conference title and NCAA playoff birth Saturday in Springfield, Ohio.

The two teams have owned the title the past six years with the last two games coming down to a field goal in the final seconds.

Kickoff is at 1 p.m. Saturday on the Wittenberg campus. Since joining the NCAC, Wabash and Witt have split 10 games.

Check out Head Coach Erik Raeburn's take on last week's win over Allegheny and the challenges ahead at Witt.