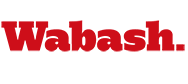 Seniors Lift Wabash to Second Straight Soccer Win
by Brent Harris

October 30, 2010

Senior Mark Babcock scored a goal in his final collegiate soccer match, giving Wabash a 4-1 victory in the season finale over Wooster. Babcock and fellow seniors Diego Aliaga and Andre Hall were honored prior to the Little Giants' match.

The victory gave Wabash two North Coast Athletic Conference victory in their final two matches.

View photos from the match here.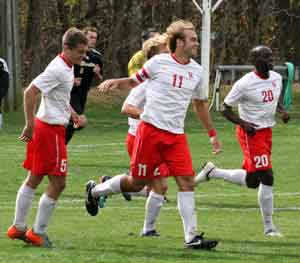 Babcock, a penalty kick specialist as a defender, blasted his second goal of the season into the back of the net with less than 15 minutes remaining in his last appearance in a Wabash uniform to give his squad a 4-0 lead.
"There was no better way for this match to finish with Mark Babcock scoring on the penalty kick," Head Coach Roberto Giannini said. "Our plan was to get the lead and be able to take Mark and the other seniors out the game with about five minutes left to celebrate their careers with a standing ovation. That's exactly what happened."
Allan Swan opened the scoring with his third goal of the season 11 minutes into the match. Femi Oluyedun added his fifth goal of the year in the 66th minute off a pass from Babcock and Ryan Fier to put Wabash in front 2-0. Just over a minute later, Austin Jennings made it a 3-0 Wabash lead with his third goal of the year, with Fier adding his second assist of the match.
Wooster scored on a free kick with two minutes left in the match to erase the shutout. Matt Paul made five saves to earn the victory. Freshman Ian MacDougall played the final five minutes of the contest in goal for the Little Giants.
"The lads had something to prove," Giannini said. "We had two games left with nothing really at stake. Still, coming out and doing what we did at Wittenberg and again today against Wooster means a lot to them. It's a significant step forward for these returning players. They had something to prove --- to the conference, to themselves --- that even though we were very close to having a .500 season at 8-10, nevertheless finishing the small details here and there would have given us better results."
Wabash finishes 2-6-0 in NCAC play.
Photo - Mark Babcock prepares to celebrate with his teammates after scoring the final goal of his career as part of a 4-1 Wabash win Saturday afternoon. Photo by Susan Albrecht.