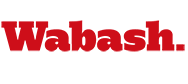 Saturday Sports Game Central
by Brent Harris

October 30, 2010

All three fall sports will be in action at the same time today either on the Wabash campus or just south of Crawfordsville.

Wabash will serve as hosts for the 2010 North Coast Athletic Conference Men's and Women's Cross Country Championship meet. Racing begins at Southmont Jr.-Sr. High School at 11 a.m. with the men, while the women compete at noon.

2010 NCAC Cross Country Championship Web Site

The Little Giants will play Wooster in the 2010 soccer season finale at noon at Mud Hollow Field. Follow the game on live stats if you are unable to attend in person.

Soccer Live Stats - Wabash vs. Wooster

Wabash plays Allegheny in football at Sewell Field at Hollett Little Giant Stadium at 1 p.m.