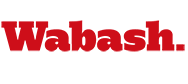 Fier Blasts Soccer to 2-0 Win at Wittenberg
by Brent Harris

October 27, 2010

Ryan Fier scored twice, including an empty-net goal in the closing seconds of Wednesday night's North Coast Athletic Conference soccer match to give Wabash a 2-0 victory at Wittenberg.

The victory snapped a six-match losing streak for the Little Giants, and was the first win by Wabash (7-10-0, 1-6-0 NCAC) in Springfield, Ohio since a 1-0 double overtime victory in 2004. The win also ended a five-game winning streak by the Tigers over Wabash.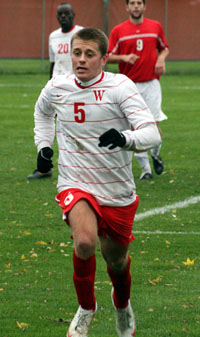 Fier (right) scored his third goal of the season in the 54th minute, working behind the defense before eventually beating goalkeeper Michael Lambeck to put Wabash up 1-0. The sophomore's second goal came with less than a minute remaining in the match when Wittenberg (5-10-3, 2-5-1 NCAC) had pulled Lambeck forward on the attack. Fier broke free and scored the empty netter to give the Little Giants the victory.

"This is long overdue, but also very well deserved," Head Coach Roberto Giannini said. "We played 90 minutes of soccer tonight against a well-organized Wittenberg team that hasn't scored a lot of goals this season, but hasn't conceded much scoring to the opposing team either. We played the whole game with a lot of heart.

"The most engaging thing is the 90 minutes of effort tonight by our team. They didn't want to leave Springfield with a tie or a loss. They wanted to win for the seniors, for the team to prove we area team that has just had a few bad breaks here and there."

Matt Paul recorded three saves in his second start of the season. Lambeck faced 12 total shots from Wabash, making 10 saves. Fier took five shots on goal, while Allan Swan and Diego Aliaga each fired two shots on net in the contest.

"It's a great win for the morale of the team, obviously, to propel us into our final match of the season Saturday," Giannini said. "I'm very proud of the effort and how badly this team wanted to win tonight."

Wabash will close out the 2010 season at home Saturday at noon against the College of Wooster. Little Giant seniors Aliaga, Mark Babcock, and Andre Hall will be honored prior to the start of the match.




Results: Wabash 2, Wittenberg 0 Game Stats