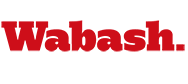 Fresh Faces Ready for Action at Denison
by Brent Harris

October 23, 2010

Tyler Burke will get his first start at quarterback today when the Wabash football team plays Denison University at 1 p.m. in Granville, Ohio. Injuries in several positions will give players an opportunity to shine in a key North Coast Athletic Conference matchup for the Little Giants.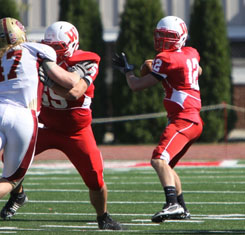 Burke (right) will take over for Chase Belton, who was sidelined last week with an injury after throwing two touchdown passes verses Oberlin. Burke has played in five games this year, completing 22-of-42 passes for 308 yards and two touchdowns.
Luke Zinsmaster and Tyler Buresh will also be starting for the first time as injuries to Zach Brock and Nick Ramsey will move the two reserves into the fray against the Big Red.
Wabash will try to extend its NCAC road winning streak to 14 games and improve to 12-4-1 overall against the Big Red. The last time the Little Giants played in Granville was Head Coach Erik Raeburn's first game at Wabash --- a 41-27 victory for his squad.
Wabash will face a Denison team that is hoping to snap a four-game losing streak after opening the 2010 campaign with three victories over Ohio Wesleyan, Earlham, and Hiram. Denison has the fourth-best rushing defense in the NCAC, led by Alex Sycher with 47 tackles and two tackles for losses of three yards. Scott Baird has 39 stops and one interception, while Eric Conrad has recorded 32 tackles, four tackles for losses totaling 13 yards and one interception returned 55 yards for a touchdown.
Quarterback Max Paulus paces the offensive attack for the Big Red. Paulus has completed
132-of-234 passes for 1,362 yards and nine touchdowns along with 10 interceptions. Junior Lucas Graham leads the Big Red receivers with 28 catches for 319 yards, but has yet to find the end zone. Braden Layer has three TD catches and 16 for 162 yards overall.
Sophomore running back Sam Fioroni is the leading scorer and rusher for Denison with six TDs and 373 rushing yards in 76 attempts. Dan Crawford has carried the ball 100 times for 366 yards and two scores.