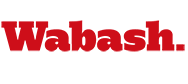 Defense States Its Case Against Oberlin
by Howard Hewitt

October 16, 2010

A rare non-conference, non-Bell Game loss last week at Washington University was all the motivation Wabash needed to be ready Saturday for improving Oberlin. The Little Giants played the 'statement' card dominating the Yeoman for most of the game and a 42-21 win.

See game photos here , here, here, and here. A few photo extras are here.

The first quarter was one of the best quarters of football, offensively and defensively, Wabash has turned in through a 5-1 start. The first quarter statistics reflect the players' mindset with a 16-0 lead and 216 to 41 total offensive yard advantage.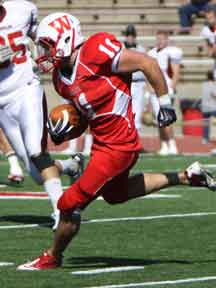 "I think the start was of most importance to us," senior running back Derrick Yoder said. "We had to come out here and show them what Wabash football is all about and make a statement. We had to get back on track and I think we were able to do that."
The key component seemed to be inspired play by the defensive line. "Other than last few minutes of the first half, we played with more intensity on defense," Coach Erik Raeburn said. "We got after the quarterback and that's been our Achilles heel. We haven't had any pressure on the quarterback through the first five games and we haven't gotten very many turnovers. But the pressure was there today so the turnovers came too."
Wabash picked off two Oberlin passes, sacked the Yeoman quarterback three times, caused numerous hurry ups that resulted in incomplete throws, and scored its first safety of the season. It was only a week ago Raeburn had called out his defense for poor play.
"We definitely felt called out," said senior Dan Ryan Wood, who led Wabash with 8 tackles. "We were mad and wanted to come out here and make a statement. We hit them in the mouth early and we tried to put a 60-minute game together."
Wabash scored on its first possession when Chase Belton hit Devin Kelley with a little lob pass from three yards out. Belton found wide out Jonathan Horn for a big 75-yard score midway through the period. Spencer Whitehead pushed the first quarter lead to 16-0 with a 33-yard field goal, after sitting out last week with an ankle sprain.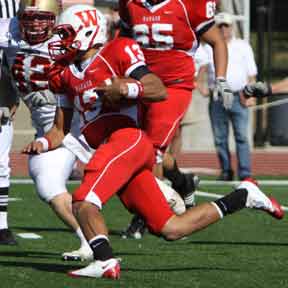 Belton scored on a 10-yard run in the second quarter before Dan Ryan Wood electrified the Fall Break crowd with an 88-yard punt return for a touchdown, 30-7.

"They blocked it up for me," Wood said of his first kickoff return for a score. "I just had one guy to beat and it was the kicker and I just ran. The first one I screwed up, I should have taken that one to the house. The guys doing the blocking are making great holes."

Belton left the game just before halftime with an injury and didn't return. Tyler Burke stepped in for the second straight week. Belton hit on 12 of 18 passes for 201 yards and a touchdown. Burke was 9 of 21 for 104 yards and two interceptions.

"We can't keep a quarterback in there the whole game." Raeburn said. "I thought we really played well that first half then Chase went down and we lost that momentum a little bit. Tyler wasn't quite as sharp as he had been the previous couple of games. But we got it going there late in third and early fourth quarter.

Yoder had his second straight strong outing with 95 yards rushing on 15 carries. He also caught a pass for 15 yards. He compiled those numbers in about two quarters of play.

"I think its opportunity and blocking, I'm going to put it on those guys' shoulders," Yoder said. "They've been opening up huge holes and I've just been running thru them, it's pretty easy."

Wabash's scoring was capped by Whitehead's second field goal of the day, a 34 yarder.

Offensively, Wabash rolled up 494 total yards to Oberlin's 250. The Little Giants had 192 yards rushing to the Yeoman's 129.

Wabash had 8 first half penalties and finished with 10 for 71 yards.

Pat Clegg had 7 tackles, two sacks, two tackles for loss, and recovered a blocked punt for a safety. C.J. Gum had 7 tackles while freshman Nate Scola had six stops along with senior Jake Martin.

Wabash goes back on the road Saturday to play Denison.

In photos: Top right, Dan Ryan Wood takes the football 88 yards for a score. Lower left, Chase Belton on the carry.




Results: Wabash 42, Oberlin 21